Modern cars at serious risk from computer hackers
Internet-enabled systems on modern cars are vulnerable to hackers, warns technology firm Harman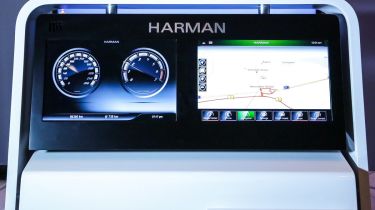 An increasing number of cars are at risk from computer hackers because of the advanced Internet enabled systems they offer – and the problem could be potentially life-threatening. That's the warning from technology firm Harman at the 2014 Consumer Electronics Show (CES).
Modern cars have a number of electronic control units (ECUs), which not only control infotainment services, but also the operation of the engine, transmission and safety features such as stability control and anti-lock brakes.
If someone can hack into the connectivity system, they then have access to all the car's other ECUs because there is currently no physical or electronic barrier between them.
• First self-driving car goes on sale 
Car hacking is already a "serious problem"
A car like a BMW 3 Series has around 35 ECUs, according to Harman, the company, which develops connectivity services for many manufacturers. With a high-end model like the 7 Series, the number of ECUs can be as high as 140.
"It is already a serious problem," says Harman's president of infotainment, Sachin Lawande. "The infrastructure of many cars was not designed with networking in mind.
"Now that they are connected to the internet their level of exposure is very different. A cyber attacker can take control of critical vehicle functions, and unless we can make them secure the increasing levels of connectivity are going to make it worse."
• BMW reveals autonomous prototypes
Protecting cars from hackers will not increase prices
Harman is developing a software barrier as part of its next-generation infotainment platform that will not prevent hackers from accessing in-car connectivity features but will stop them from being able to attack the vital ECUs. You may lose your internet, navigation or audio, but not the car's operating and safety systems.
It is an industry-first solution and is likely to be seen in 2016 or 2017 because of the time it takes for carmakers to introduce major model changes. Harman says it is unlikely to add to the price of new models because "one of the golden rules for suppliers in the automotive industry is that costs can only go down". 
The top stories from CES 2014
• Audi Sport Quattro laserlight for CES debut• New Audi TT interior revealed• Ford C-MAX Solar Energi concept• Kia reveals future tech for production cars• BMW reveals autonomous prototypes• Driverless cars are here: first self-driving car goes on sale