Subscribe to Auto Express: YouTube subscribers get 6 issues for £1
Auto Express YouTube subscribers get 6 issues for £1 when they subscribe to Auto Express magazine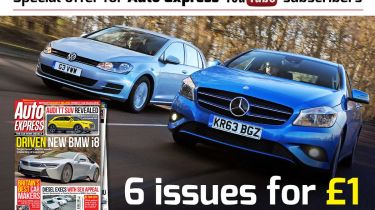 Like our coverage on the Auto Express YouTube channel? Why not try a subscription to Auto Express magazine, and get the latest motoring news and reviews delivered to your door every week?
If you love motoring then Auto Express is your ultimate weekly read. Nothing moves in the world of cars without Auto Express knowing about it – and right now you can find out for yourself by claiming 6 issues for £1.
Subscribe to Auto Express magazine >
Every week Auto Express features the highest quality car journalism and an unsurpassed passion for motoring and brings you everything you need to know about cars, motoring and maintenance. Join the biggest-selling car magazine in the UK now for just £1!