"Other sports treat their elite titles with respect but not Formula 1"
Formula One rule makers had a lucky escape when Lewis Hamilton took the 2014 F1 World Championship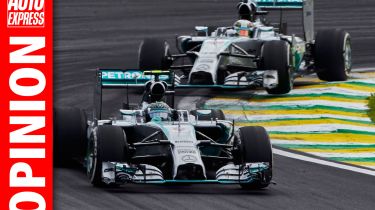 Imagine a scenario where football's Champions League final was decided on penalties, despite one team winning over the preceding 90 minutes. Or a world heavyweight championship boxing bout where one fighter gets awarded the title for winning the last round, despite repeatedly being knocked down in the previous 11.
You can't, can you? And for a very good reason – because other sports treat their elite titles with respect. Not motorsport, though. This weekend we were faced with the absurd spectacle of drivers competing for double points at the Abu Dhabi Grand Prix in a tricked-up attempt to generate more interest in Formula One.
It certainly worked. It's been a long time since the sport's profile has been quite so high as in the two weeks following the Brazilian Grand Prix, which of course threw the title battle into sharp focus. So in that respect, you might argue the idea was some kind of success. But I simply can't agree.
Yes, I fully understand the need to give TV companies across the globe the sort of spectacle they feel they deserve having shelled out millions for the right to broadcast races.
They do not want processional racing, or one driver dominating to the extent that boredom sets in among the viewing audience.
But F1 has to be more than just entertainment for the masses, with career-defining achievements handed out on a whim. It is the pinnacle of motorsport, a series which every racer and engineer wants to win. It should not be cheapened as it was this year, with a last race scenario that rendered much of what had preceded it redundant.
What a relief, then, that justice was served and the sport has its rightful champion in Lewis Hamilton. He's been the best driver in 2014, won the most races and deserves his success.
The real winner, though, is F1 itself, which has somehow emerged from this debacle with its credibility just about intact.
Hopefully the ringmasters will realise how close they came to irreparably damaging the sport's reputation and ensure that it never finds itself in such a farcical situation again.
What are your thoughts on Lewis Hamilton's F1 World Championship win and the way the 2014 season has panned out? Let us know on Twitter, on Facebook or in the comments section below...