"Annual driving appraisals aren't compulsory - but they should be"
Mike Rutherford thinks a compulsory driving appraisal every year could be one of the best investments a motorist can make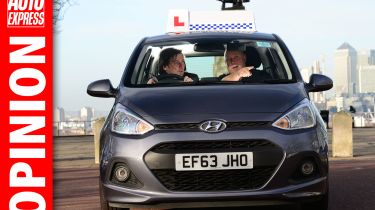 You wouldn't believe how often broadcasters wheel me into their studios to discuss the thorny subject of 'retests' for motorists in certain age groups.
One minute, pensioners with half-century-old licences are the problem. The next, it's newly qualified youngsters who are branded the worst drivers on the road.
Do I detect age discrimination here?  Please, can we stop putting fear into young and old folk with threats of automatic 'retesting' and, in turn, the possible loss of their full licences and modest cars?  
• UK's worst speeders revealed
What's wrong with ALL qualified drivers being legally required to sit and steer their way through professional driving appraisals (not tests) once a year? For each 60-minute assessment they'd pay around £20, or a little more if driving the appraiser's car. 
Only qualified driving instructors could qualify as appraisers, and it would mean more work for existing driving schools, plus potential and much needed employment prospects for would-be instructors/appraisers/assessors. 
The icing on the cake is that the training industry and its workers will earn more while appraising 30 million-plus drivers per annum. HM Treasury will rake in additional corporate and employee taxes. Britain will get richer. 
• Driverless cars to be tested on UK roads
The counter argument goes that already cash-strapped drivers will be £20 a year poorer. But will they? Perhaps forward-thinking car insurers can pick up the tab for some or most of their customers. After all, a policy holder who consistently receives brief but glowing written assessments is surely bound to have fewer prangs.
Maybe firms who employ company car drivers will pay the fee on behalf of their staffers. And what better affordable birthday present from grandma to grandson than a £20 appraisal booked with a driving school convenient to him? 
But even if you're on your own and must pay it yourself, consider the modest annual spend one of the best investments you'll make during the course of each motoring year. 
Voluntarily, I've just done my first appraisal  and will definitely be going back for more. Like personal health checks, gas boiler inspections and routine servicing on cars, annual driving appraisals aren't compulsory – but they should be. 
Do you think annual driving appraisals should be rolled out for motorists? Let us know in the comments below...