"SEAT insists anything is possible with Samsung"
One of the most important and symbolic events from Geneva 2015 was the marriage between SEAT and Samsung, says Mike Rutherford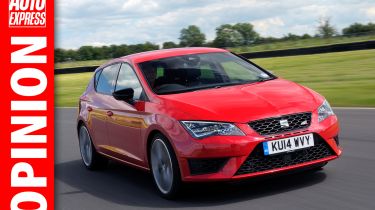 The Geneva Motor Show, which finally closed its doors on Sunday [15 March], will be remembered for three things: meaningful production cars, largely meaningless concepts and McLaren-Honda's just-born F1 car.
But one of the most important and symbolic events was missed by the majority of showgoers. It was the shock marriage between Korea's Samsung and Spain's SEAT. Only a handful of close friends and relatives were invited to the private wedding ceremony on the Lake Leman shoreline. I blagged my way into the post-wedding reception, seeing for myself that SEAT looked like the world's happiest bride.
• England's busiest A-roads could become 'mini-motorways'
And so it should, because Barcelona's underrated, often forgotten brand – barely known outside Europe and Latin America – has achieved the near impossible by courting then rapidly tying the knot with Seoul's colossal electronics empire, which is known and respected globally.
When the Spaniards describe it as the "perfect alliance", I can see where they're coming from. But when they formally declare that the "first SEAT cars powered by Samsung [will be] on roads before the middle of the year", they give the impression – wrongly – that SEATs will be propelled by state-of-the-art power packs from Samsung. True, the two have made legally binding agreements "for technological solutions to provide total connectivity across SEAT's range". But that's not quite the same as Samsung power in SEAT engine bays.
• Euro 6 emissions standards: everything you need to know
The Spaniards insist anything is possible with Samsung in the mid to long term. But 'SamSEAs' (Samsung-supplied power and battery packs beneath SEAT car bodies) are still some way off. Looking at the bigger picture, SEAT is a young adopted daughter of the VW Group and the wedding conveniently means South Korea's number one consumer brand and empire has married into the VW/Wolfsburg dynasty.
Once it has finally shaken off the baggage of its lukewarm first marriage to Renault, I suspect it may eventually become a major partner in a future VW-Samsung supergroup. Who better than these two to become the biggest-selling, funkiest, best-known, most successful and respected automotive/tech partnership on the planet?
Do you think a SEAT and Samsung partnership could be a "perfect alliance"? Let us know in the comments below...