New warning system to alert pedestrians to EVs
A new system developed by Nissan, Renault, Peugeot & Citroen will help warn pedestrians of silent electric cars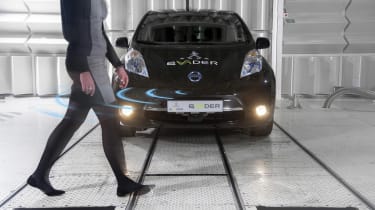 Pedestrians walking into the path of an electric car could be a thing of the past, thanks to a new alert system.
Called eVADER, the system is the result of three years' worth of collaborative work between 11 companies and the EU, and involved carmakers Nissan, Renault and PSA Peugeot Citroen.
It consists of a camera in the car's windscreen that can detect pedestrians, cyclists and other road users. On detecting a pedestrian or other road user, six speakers beam the noise at the targeted individuals to alert them of the EV's presence.
The noise is 5db lower than that produced by a conventional petrol or diesel engine and is designed to keep irritation to a minimum.
It could cut incidents involving between road users and EVs – a hot topic between carmakers and road safety charities. The eVADER system has been trialled in the real world last year in a prototype Nissan Leaf. It's hoped that the results collated from eVADER project will shape future research and EU legislation on EV pedestrian alert sounds.
David Quinn, Nissan's e-VADER Project Leader said: "Our objective has been to find an optimum balance between ensuring the cars are detectable, whilst retaining the reduction in noise pollution, which is one of the great benefits that our EVs offer."
Have a listen to the warning sound embedded here and let us know what you think. Can you come up with a better noise to use?