'Car manufacturers building our houses is a great idea'
Could car makers diversify into building homes? Mike Rutherford wouldn't bet against it...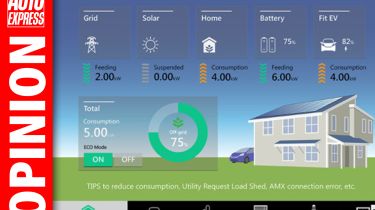 The motor industry has long had a logical interest in the residential property business. After all, cars are often extensions of homes. They're parked inches from our front doors, either kerbside or on driveways. They've even been known to occupy their own 'lounges' (aka domestic garages) inside, alongside or beneath our homes.
For decades, Toyota in Japan has been operating its successful and wonderfully funky housing division. In South Korea, Hyundai homes are common. And Honda has lately been telling folk keen to self-build that it'll help them get started, and will even (via hondasmarthome.com) allow them to download architectural drawings of its idea of tomorrow's sustainable house, with roof-mounted solar panels designed to recharge the all-electric vehicles and garden equipment in the integral garage. True, it's described only as an 'experimental' home. But because it uses on-the-market tech, it is real-world. And strangely tempting. 
• Tesla Energy could power your home
Aston Martin is nowhere near as wealthy or diverse as Honda, so is at present merely dipping a tentative toe into residential waters, thanks to its furniture collection. And although leccy-obsessed Tesla starts delivering its Powerwall 'home battery' systems to UK customers next year, I wonder how long it'll be before it takes the next logical step – selling houses equipped with Powerwall tech plus a garaged Tesla EV as standard? Watch this space.
Having cleaned up this year at the World Car Awards and in Formula One, Mercedes is now actively looking to divert into non-automotive businesses. Thus its intriguing announcement this month that it's "entering the residential property market", in London and elsewhere.
At this early stage, the firm is merely dabbling with, for example, upmarket serviced apartments furnished to Merc's exacting standards. And why not? It knows a thing or two about design/architecture, paint finishes and elegant, durable surfaces. And it's hard to think of a company that better understands comfortable seating, the right lighting, sound-deadening insulation, state-of-the-art infotainment and space efficiency. 
Upmarket Mercedes residences for wealthy Mercedes drivers make a great deal of sense. Could Audi apartments, Land Rover lodges and BMW bungalows be next? I wouldn't bet against them. It's called diversification. And car makers need much, much more of it.
Do you think car makers could build the homes of the future? Leave a comment below...