Wooden Toyota Setsuna Concept to debut at Milan Design Week
It's not a beech buggy, it's a birch buggy - and the Toyota Setsuna Concept will go on display next month in Milan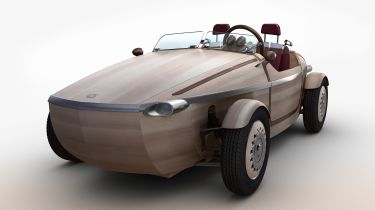 Car manufacturers are still busy at the Geneva Motor Show, but that hasn't stopped Toyota previewing its next concept car ahead of its debut at Milan Design Week next month. Called the Toyota Setsuna, the car is made almost entirely out of wood.
The vehicle's beauty might be in the eye of the beholder, but it's very elegantly constructed. Rather than traditional fastenings such as screws or hooks, Toyota turned to the traditional Japanese joinery technique called 'okuriari'.  This gives a completely smooth finish to the car – almost like the hull of a ship.
'Setsuna' means 'moment' in Japanese and the designers say it was chosen to reflect special and memorable moments people can share with their cars. Toyota believes these can be as significant a memory as any other.
• World's fastest log - Cedar Rocket
The car is made out of Japanese cedar for the main panels, mounted on a frame of Japanese birch. Toyota says this will last for many generations if properly looked after, and will respond to changes in the environment – giving it a unique look as time goes on, and absorbing the memories of each successive owner. Because of this, Toyota has placed a 100-year meter in the car, to mark time across generations.
The interior is also made from wood – though not everything uses this material, as the Setsuna does have an electric powertrain underneath the swooping body.
It's even driveable – though forward planning will be needed should you want to take the car back to its roots and go any great distance. The Setsuna concept reportedly uses six lead-acid batteries that give the vehicle a range of around 16 miles, at a top speed of 28mph. It won't be worrying anything, electric or otherwise at the traffic lights.
The two-seater Toyota Setsuna will go on public display at 31 Via Tortona in Milan from 12-17 April, during Milan Design Week.
Do you think there's a future for wooden cars, handed down through the generations? Let us know in the comments below...