90m cars a year don't go far when the population is 7.4bn
Mike Rutherford thinks that record breaking car production figures simply aren't enough for the growing population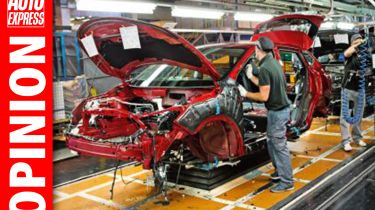 The following numbers are impressive... but scary. Global motor industry folk had to slog away for a century to grow annual vehicle production from 0-60 million.
But it has taken only the past six years for that 60m figure to grow by almost 50 per cent to nearly 90m. How's that for efficient factories and workers?
International motor industry data quietly - almost apologetically - revealed in recent days proves that back in 2009 the car and truck business was chuffed with itself as it produced 61.6m vehicles during the year. In 2015, 90.6m were made! And although this represents spectacular growth (47 per cent plus) over a mere 72 months, the strongest and most determined makers and countries that host them are barely warming up.
Last year, China built more than 2m per month to become a 24.5m per annum manufacturing nation. America (12m) claimed the runner-up slot, but must feel miffed that if fell short of producing half the cars and trucks that the Chinese churned out. Japan (9.3m), Germany (6m) and South Korea (4.6m) maintained their places in the top five. But for how much longer?
India (4.1m) and Mexico (3.6m) are poised to overtake the South Koreans who - unless they reunify with North Korea - are fast running out of land, personnel and resources. Spain (2.7m), Brazil (2.4m), Canada(2.3m), France and Thailand (1.9m) and the UK (1.7m) are next in the pecking order. Astonishingly, Russia (1.4m) could soon be overtaken by the likes of Turkey (a tad under 1.4m), the Czech Republic (1.3m), Indonesia (1.1m), Italy and Slovakia (1m).
• Car production in Britain hits ten-year high
But such production volumes just won't do. They can't satisfy future demand for personal mobility machines refuelled via petrol or diesel, electricity or hydrogen. Although the annual figure has just topped 90m for the first time, the fact is that fewer than 100m vehicles a year don't go far when the world's population is at its current 7.4 billion.
True, there are around 1.2 billion second-hand vehicles on the road at the minute are 2.5 billion used and new are forecast for 2050. But by then the population is expected to grow to 9 billion-plus. So for every four of us, there will be just one vehicle. Not enough. We need a new Japan-cum-Korea-cum-China to satisfy demand. Algeria perhaps? After all, it was the world's fastest-growing car-producing nation in 2015.
How many cars do you think we should be producing to keep up with our expanding population? Let us know in the comments below...