'In or out of the EU: it'll make no difference to motorists'
Whether our next PM is Boris or Dave, and we're in or we're out, life for the UK's 50m motorists won't change, says Mike Rutherford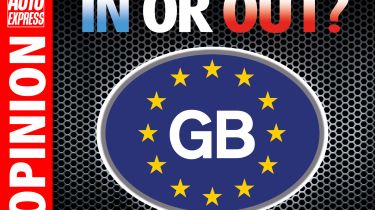 It could have been a beautiful thing, this referendum. But then they, the ruling politicians, turned ugly and sabotaged it.
The vote should be about one issue: whether to stay married to the EU or divorce it. Instead, the process has been hijacked and abused. While voting on whether to leave or remain, we'll effectively elect the post-referendum PM, too. A win for the remain camp and David Cameron keeps his job. Victory for the leave campaign and Boris Johnson gets the gig.
Our referendum on EU membership has gone from beautiful to politically sordid as it plunges into a Dave vs. Boris fight for the leadership of the Tories... and Britain. Many voters (me included) want no part of this.
• In or out? What does the EU referendum mean for motorists?
But rest assured that whether our next PM is Boris or Dave and we're in or out, life for Britain's 50 million car drivers and passengers will remain largely unchanged. The BMW, Mercedes and VW empires will ensure we'll still enjoy huge supplies of cars from Continental Europe. If not, buy British, Asian or North American. What's the problem?
Lucrative taxation on cars, fuel, servicing, insurance etc will remain excessive here, and parking fees will still be among the highest on earth. Toll roads/congestion charging will increase. And due to the ignored problem of worrying population density in Britain, congestion on our roads, car parks and pavements will worsen. Guaranteed.
In or out of the EU, we'll still be able to drive through European borders. But do we want to these days? The time, trouble and expense of crossing the Channel with our cars, negotiating the distressed Calais region, then driving across the continent on rip-off toll roads has taken away the appeal.
• "How will our relationship with Europe impact on us car owners?"
Also, if Britain 'in Europe' is such a good thing, how come firms like Ford, Rover and Peugeot abandoned car production here while we were, er, 'in Europe'? Will the Japanese, Indians, Germans and other foreign corporations close their factories and design studios here if the electorate votes Leave/Johnson instead of Remain/Cameron? Not a chance. Skilled, stable and experienced workers, infrastructure, heritage and 'made in Britain' badges attracted big car corporations to build in Blighty... and stay.
I'm not crazy about a possible messy divorce from the EU, or a cynical leadership coup by Johnson. But if you think a Brexiting Boris will force foreign-owned car corporations to quit their adopted treasure island that is mainland Britain, I've got news for you: they'll be doing no such thing.
How will you be voting in the EU referendum? Leave us a comment below...