Labour promises to end hospital parking charges
Auto Express previously revealed how hospitals in England make £344m from parking fees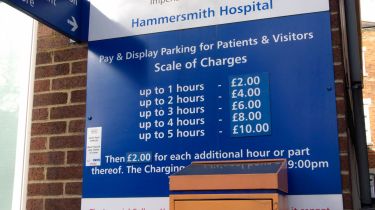 Labour leader Jeremy Corbyn has said his party will axe hospital car parking charges in England if elected to Government. Auto Express previously revealed that parking charges earned hospitals in England £344million over the three years to June 2016.
Corbyn said the shortfall for the NHS would be offset by increasing insurance tax on private healthcare to 20 per cent, a move that is expected to raise £160 million a year.
The Labour leader said: "Labour will end hospital parking charges, which place an unfair and unnecessary burden on families, patients and NHS staff. Hospital parking charges are a tax on serious illnesses."
A Conservative party spokesperson rebuffed Labour's claims: "This promise isn't worth the paper it's written on because Jeremy Corby simply wouldn't be able to deliver it."
Hospitals in England make £344million from parking fees
Hospitals in England made over £344million from parking fees in the last three years, with each NHS Foundation Trust raking in an average of £949,000 a year from parking, an exclusive Auto Express investigation found.
Trusts also issued 275,000 fines to patients and visitors collecting £2.8million since 2013, amounting to an annual £8,200 a year income per trust from penalty charges.
As our table (below) shows, some earned over £10m in the last three years from parking charges, with a quarter of hospitals diverting the money received into car park maintenance rather than patient care.
Derby Teaching Hospitals NHS Foundation Trust topped the list as the highest earner, collecting £10.8m since 2013. A spokesman for the trust told Auto Express the majority of the money collected from parking charges is spent on car park maintenance, but added: "Any revenue remaining is reinvested into caring for our patients."
The Freedom of Information request also revealed hospitals differ vastly in the amount they charge for parking. Some set £3.50 as the standard tariff; others offer parking for as little as 60p while 14 per cent of trusts don't offer any concessions to Blue Badge holders or long-term and terminally ill patients. The Department of Health told Auto Express over half of NHS hospitals offer free parking, although Auto Express found free parking is only for up to 30 minutes at most of these hospitals. Only four trusts in England don't charge for parking.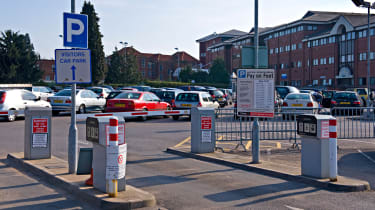 Katherine Murphy, chief executive of the Patients Association, told Auto Express: "This is a tax on the ill. Going to hospital can be stressful and patients do not need further stress by having to worry about the cost of parking or about any fines they may incur."
Murphy also called on England to follow the lead of Scotland and Wales to scrap hospital parking charges. It has been free for patients, visitors and staff in Scotland since 2009 in all but three hospital car parks, while Wales has also opted to not charge for car park use.
However, moves to scrap hospital parking fees in England have previously been blocked by Parliament, although last year, the British Parking Association (BPA) worked with the NHS to update its parking guidelines. A BPA spokeswoman told Auto Express: "Whilst many people attending healthcare facilities expect car parking to be free, the limits on space, costs involved and demand for spaces mean that parking needs to be managed. Often the most effective way to do this is by charging.
"Free parking at hospitals in Wales and Scotland has actually made the situation worse. If the users don't pay for the parking then the trust does."
Top 10 highest earning hospital trusts' parking incomes 2013-16
| | |
| --- | --- |
| Top parking incomes 2013-2016 | |
| Derby Teaching Hospitals NHS Foundation Trust | £10,858,298 |
| Heart of England NHS Foundation Trust | £10,333,980 |
| Nottingham University Hospitals NHS Trust | £9,859,187 |
| Sheffield Teaching Hospitals NHS Foundation Trust | £9,391,935 |
| Central Manchester NHS Foundation Trust | £8,940,052 |
| The Pennine Acute Hospitals NHS Trust | £7,813,559 |
| Frimley Health NHS Foundation Trust | £7,417,537 |
| Worcestershire Acute Hospitals NHS Trust | £6,982,463 |
| The University Hospitals of Leicester NHS Trust | £6,933,404 |
| South Tees Hospitals NHS Foundation Trust | £6,544,045 |
| | |
| Top 10 fine incomes 2013-2016 | |
| The Leeds Teaching Hospitals NHS Trust | £245,422 |
| London North West Healthcare NHS Trust | £149,903 |
| Warrington and Halton Hospitals NHS Foundation Trust | £146,940 |
| University Hospitals Bristol NHS Foundation Trust | £134,152 |
| East Kent Hospitals University NHS Foundation Trust | £126,757 |
| Cambridge University Hospitals NHS Foundation Trust | £121,207 |
| Ipswich Hospital NHS Trust | £105,803 |
| Bolton NHS Foundation Trust | £95,000 |
| West Hertfordshire Hospitals NHS Trust | £83,466 |
| Royal Devon & Exeter NHS Foundation Trust | £83,034 |