"No sign of a mini MINI yet - but we're hopeful"
Does MINI's Vision Next 100 concept preview a truly compact MINI? Editor Graham Hope sincerely hopes so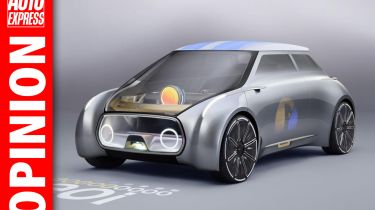 One of the most intriguing concepts of recent years previewed a car that has never made production and yet is still lusted after by many. I'm referring, of course, to the MINI Rocketman, which hinted at a baby model for the brand.
So many of you will have been heartened by the unveiling of the Vision Next 100 concept, which shows how MINI's future could evolve in terms of design, connectivity and engineering.
It was abundantly clear that the idea of a smaller MINI was very much in designer Anders Warming's thoughts when he created it. At 3,628mm, the new model is only 209mm longer than the Rocketman, and he was keen to tell me: 'I wanted it to be a mini MINI, but I didn't want it to be so small and compromised that we couldn't fit four people. It is very space-efficient for its footprint.'
Pressed further on what cues a production small MINI could take from the wildly styled Next 100, Warming was surprisingly candid. 'All of them,' he said, without hesitation. 'This is to be seen as a small MINI. We are in the same segment of small, urban mobility [as the Rocketman].'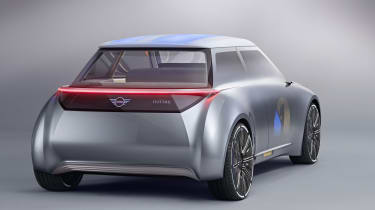 Warming's enthusiasm for the idea was clear, but MINI boss Peter Schwarzenbauer was more cautious, explaining the concept's electric drive was an issue.
'We're looking at it,' he said. 'But having an electric MINI means we need a certain size of car to put enough battery in it that it is worthwhile. So to have a Rocketman and then electrify it is technically extremely challenging. We don't have a solution.'
If you're a glass-half-empty type of person, you might think that means a mini MINI is as far away as ever. But the mere fact it's being looked at so closely makes me believe MINI hasn't given up on this idea just yet. I, for one, sincerely hope not.
Do you think the Vision Next 100 concept previews a truly mini MINI? Let us know in the comments below...