MINI Rocketman is back
Exclusive images show how mini MINI could shape up as it takes fight to Smart ForTwo and Toyota iQ
A new MINI city car, hinted at by the Rocketman concept, is back on the agenda, Auto Express can reveal – and our exclusive images show how this model could look.
As the new five-door MINI hit the road this week, head of design Anders Warming stressed the brand was still keen on the idea of a tiny city car, but "won't reveal anything more [to the world] until [a viable design] is ready".
The Rocketman concept (below) starred at 2011's Geneva Motor Show, hinting at a new MINI rival to the Smart ForTwo and Toyota iQ. While its wide-eyed front end has inspired the new MINI hatch and five-door, the idea of a new entry-level model appeared dead in the water due to the high cost of developing it.
But Warming suggested to us that the Rocketman was still on the table. "For sure, a MINI should always be a small car, so [a new city car] would be appropriate for the brand," he said. "At the moment, we don't have the right tech solutions, but we are working on it. We don't yet have a final solution, you could say."
While the Rocketman was based on a lightweight carbon fibre construction, Warming hinted future MINIs won't use carbon like the BMW i3 and M4 to save weight. "I don't believe carbon fibre is the route to a superlight MINI," he told us. "Our concepts have had carbon parts, but aluminium is more likely. We want to reduce parts, to do more with less."
As a result, the Rocketman's styling is set to develop to something nearer to the car in our images – the carbon fibre double-hinged doors are axed and Union Jack-inspired tail-lights have evolved from the Superleggera Vision concept.
As for the interior, Warming said: "To have a great cabin, all you need is a great steering wheel, a seat and a great user interface. We want no superfluous parts. Driving in the city is stressful enough, so we need a reduction in the number of elements... True luxury is now simplicity."
Developing a new city car platform is costly, so MINI will be looking for a technical partner. And as BMW is working on sports car ventures with Toyota, the Japanese giant is a good candidate – especially with its iQ.
Just don't expect to see a production Rocketman before 2016, with prices set to start at around £11,500.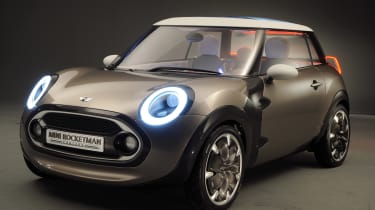 Show stopper: Striking Rocketman concept starred at the Geneva Motor Show back in 2011, with LED-ringed headlights and dramatic tail-lamps. Crucially, it was only 400mm longer and 500mm wider than the classic original Mini