BMW M4 GT4 turns the M4 Coupe into a racer
Car is described as 'close to production' and will compete in the increasingly popular GT4 sector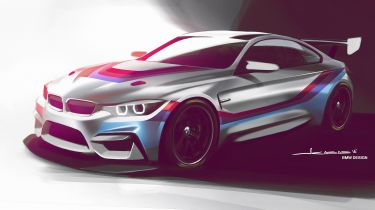 Not content with the already bonkers M4 GTS, BMW will also produce a racing version of its hot compact coupe. Named the BMW M4 GT4, the car follows on from the M3 GT4 (below) and will compete in the growing GT4 racing sector. BMW says tests on the new car will be complete by the end of 2016, allowing the M4 GT4 to be available for the start of the 2018 racing season.
Although the M4 GT4 exists only as a sketch for now, many of its parts will come straight from the M4 and M4 GTS, so we'd expect it to look fairly similar.
The entire drivetrain will come from the M4 Coupe, so expect to see a 425bhp twin-turbocharged straight-six engine and rear-wheel drive. To lighten it up for track use, though, the GT4 will use the carbon fibre bonnet from the M4 GTS, as well as carbon-fibre doors, a racing exhaust, and motorsport front splitter and rear wing. Inside, the seats, brakes and pedal box are carried over wholesale from the M6 GT3 racer.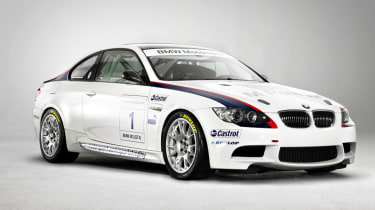 The new BMW M4 GT4 will provide a middle ground for privateer racing teams – sitting in between the current M6 GT3 and M235i Racing models. As such, it complies with all regulations to be eligible for racing in Europe, North America and Asia.
BMW also plans to use the new car to bring talented young drivers one step closer to the GT3 racing class.
Customers can register their interest in the BMW M4 GT4 now and the first cars are due to be delivered in the second half of 2017. BMW predicts the car's first public outing will be in the 24 Hours of Dubai race in January 2018.
Is the standard M4 not hot enough for you? Would you buy a racing version? Let us know in the comments below...