Foreign truckers charged £96m in first two years of HGV Levy
Government records rise in HGV Levy payments, but evasion fines jump up to £1.2m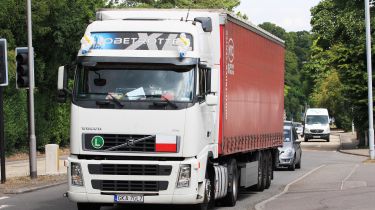 Nearly £400million has been generated in the first two years of the Government's HGV Levy, according to exclusive Auto Express figures.
Foreign-registered lorries generated £96.2million – a quarter of the £390million total – with the extra cash used to cover road maintenance and repairs. Meanwhile, UK-registered HGVs – which generated the other £293.8m – saw their vehicle excise duty reduced to offset the outlay.
• Driverless lorries to be tested on UK roads
The Department for Transport (DfT) introduced the HGV Levy in April 2014 for all lorries above 12 tonnes using UK roads, as a way to "create a level playing field across Europe".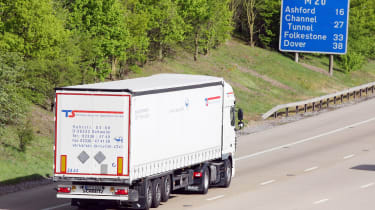 The Levy aims to remove the inequality UK hauliers faced when paying for tolls on foreign roads in Europe. Yearly, monthly, weekly and daily tickets are available.
Daily tickets, which vary in price from £1.70 to £10 depending on the type of truck, were the most common purchase last year, with 1,906,134 tickets bought, while 5,510 annual tickets – which can cost up to £1,000 – were sold.
Polish and Romanian truckers were found to contribute to over a third of all purchases in the last two years, while Spanish lorry drivers accounted for nine per cent. In total, truckers from 90 countries bought tickets.
Although the revenue generated by the HGV Levy has increased since last year, so has the number of fines issued for truckers who've continued to drive in the UK without paying. Last year 4,058 fines were issued – up 49 per cent from the previous year – with £1.2m generated from roadside fines. Most of the fines are aimed at foreign truckers, as figures previously showed a 99 per cent compliance rate for UK vehicles.
A Government spokesman said: "The levy aims to ensure all HGVs – registered in the UK or in an EU member state – contribute to the wear and tear caused to UK roads."