'Motorsport should be in the Olympics'
Whether our motorsport stars would be motivated to join Team GB or not, Graham Hope believes they should at least have the chance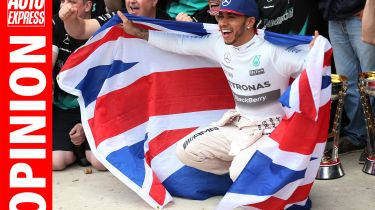 Like much of the rest of Britain, I've enjoyed watching the Olympics action being beamed back from Rio. But as is the case every four years, I'm wondering why there's no motorsport involved.
It's a debate that will never go away, and I realise there are many arguments as to why it shouldn't happen. Of course, the most vocal objection when a controversial sport is included – golf this year, undoubtedly – is that it is unjustified because the Games are "not the pinnacle of achievement". 
For example, the Olympics didn't seem to mean much to golfing superstar Rory McIlroy, who didn't attend. But equally, I could point you to tennis's Novak Djokovic, who was distraught by his defeat this year, despite his Grand Slam successes. 
• 'A policing crisis on Britain's roads should worry every motorist'
Would Formula One champ Lewis Hamilton be motivated enough to compete for Team GB? Who knows? Everyone has different aspirations. But if the Olympics really is about recognising the best, shouldn't he at least get the chance?
Clearly there would be issues about machinery, scheduling and what cars would actually be used, too. But rather than concentrate on obstacles to motorsport's inclusion, I'd rather put forward two very compelling reasons why its governing body, the FIA, should be trying to advance its case.
• 'Rallycross is the most exciting sport out there'
Firstly, motorsport needs a shot in the arm. As we've discussed on these pages before, F1 is in the doldrums and many other series are struggling to really fire the imagination. An Olympic event would be an intriguing new proposition, surely?
Secondly, as much as the Olympics is an elite sporting event, it is also a global TV phenomenon. It's absurd not to covet the massive exposure inclusion would bring.
I'd love to see it happen, but what do you think? Tell us your views through the usual channels.
Should motorsport be represented in the Olympics? Leave us a comment below!