'Rallycross is now the most exciting motorsport out there'
F1 is more about tech than the drivers, WRC has lost its identity and touring car races fail to excite, says Mike Rutherford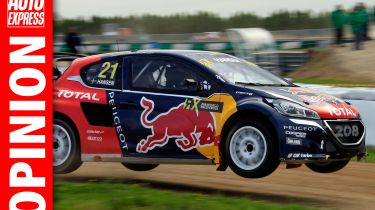 If you've got time on your hands, adventure in your heart and cash in your pocket, you can go to Hell this weekend.
Hell in Norway, that is. A passport and a pair of tough boots might help, too. It's a dusty place (part dirt, part tarmac) is Hell on earth. In the days ahead, it will serve as motorsport Mecca for true car fans.
That's because the Norwegian venue will host the latest round of the World Rallycross Championship, which means it'll be home to the most entertaining and exciting form of car racing the world has to offer. Honestly.
Formula One is more about tech, tantrums and teams running cars we can't relate to, than it is about (eye-wateringly expensive) drivers, now pricing themselves out of jobs – thus the imminent arrival of autonomous F1 machines. Formula E struggles as the cars can't go fast or far enough, plus they sound just plain wrong. Sadly, the World Rally Championship has lost its true stars, identity and mass appeal, and British and World Touring Car races fail to excite, whether I'm watching them in the metal or in front of a TV screen being bored to sleep.
Rallycross is at the other end of the entertainment and exhilaration scale. There's an honesty, atmosphere, level of skill and air of sportsmanship that no other form of racing seems to offer any more. And the smell (reminds me of Speedway meetings I attended as a nipper), dust, din and unapologetic burning of fuel, oil and rubber via £300,000 pocket rockets powered by 600bhp two-litre turbo engines are all deliciously politically incorrect.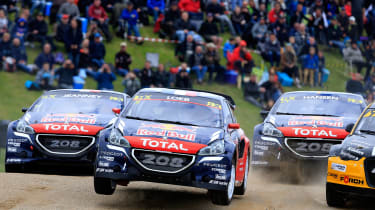 And how's this for an astonishing fact? Off the line, Rallycross cars are faster than their F1 counterparts. No wonder the motorsport of the moment features the likes of Sébastien Loeb (Peugeot 208) and Mattias Ekström (Audi S1). It can be argued that these two are the current fastest drivers around, thanks to their three victories apiece in the annual Race of Champions, where top Rallycross and Rally pilots like them tend to, more often than not, thrash their slower F1 rivals.
If a trip to Hell this weekend is too short notice, then no problem. The Quest channel (Sky 144) will serve as motorsport heaven, airing all the relevant Hellish action via your telly or computer free of charge. The BBC should be ashamed of itself for turning its back on Rallycross. After all, it's the finest, purest and most skilful brand of motor racing around.
Are you a fan of Rallycross events? Leave us a comment below!