'A policing crisis on Britain's roads should worry every motorist"
After speaking to a police officer at the sharp end of government cutbacks, Graham Hope is worried that lives could be at risk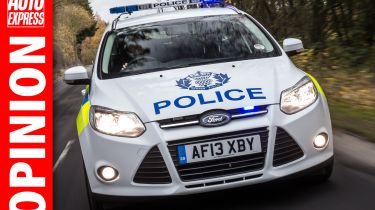 Are we sleepwalking into a road safety disaster of our own making? The reduction in numbers of specialist road policing officers due to funding cuts is well documented –  down from 7,104 to 4,356 in England and Wales between 2010 and 2014.
With the number of offences detected on the road also dropping significantly, the Home Office seems satisfied the available resource is sufficient. 
But speak to an officer at the sharp end, as I did last week, and the story is somewhat different. Morale is at a very low ebb as cutbacks hit hard, and it could have serious consequences for motorists.
• Private firms forced to fund their own traffic cops
In a wide-ranging chat, the officer, who didn't want to be named for obvious reasons, gave example after example of how the service the police force provides is being compromised. 
Where once three cars covered an area, now there is only one. Cars thefts are soaring, but recorded as something else to massage the figures. Some offences simply have to be ignored. Smoking in cars with children? "Laudable but unworkable." 20mph speed limits? "Unenforceable."
Even more concerning is that unscrupulous drivers are aware of how stretched the police are and, as my acquaintance says, "try their luck". On his patch, no-insurance cases are on the rise from one every few days to two a day. MoTs are being ignored and the tax disc's demise means people "take their chances on the expectation they won't get caught". 
• Lack of traffic police explains drop in UK motoring offences
He concluded: "Without proper resources, it's natural that we can't be everywhere. This, of course, will impact on public safety." And that's the really frightening prospect for everyone who drives a car.
Unless the police get the backing they need, Britain's reputation as a road safety leader will be eroded. While cuts may be necessary, they can't be so extensive that lives are put at risk.
What do you think about the state of the UK's police force? Leave us a comment below...