"The dashboard camera is moving in as a sort of modern-day squatter"
Mike Rutherford laments the loss of non-essential tech as standard and looks at the growing demand for dash cams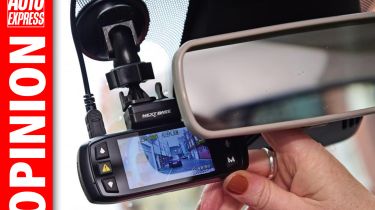 How's this for 'progress'?  In recent decades, most manufacturers built CD players into their cars. They were cheap to install at the factory and were as welcome as radios, central locking and electric windows. Little luxuries like these aren't lavish or essential. But climb aboard a vehicle bereft of them and most folk will desperately miss 'em.
Madly, most of the state-of-the-art test cars I pedal these days are now CD player-free. However, the new car buyer can usually still have one thanks to the (often expensive) manufacturer options list. Put another way, economies of scale meant that the customer used to be given a CD slot in his dashboard – but is now charged for it as an optional extra! Progress? Thin end of the wedge, more like. Could other non-essential on-board goodies like radios be next for the chop on the grounds that broadcasts, like music, can be accessed via mobile phones?   
Ironically, as the CD slot is being evicted from the cabin, the dashboard camera is moving in as a sort of modern-day squatter. I've got mixed feelings about this. But on a selfish level, I (not others) wouldn't mind automatically filming/owning footage of all my journeys and parking manoeuvres – particularly if I was incentivised and rewarded with a meaningful discount from my insurer.
But where should this 'spy in the car' malarkey end? Is it OK for rental companies trying to protect their assets to point lenses inside (at drivers) and outside (the road)? Is the resident directly opposite you effectively filming your house every night, as the forward-facing dash cam in his car reversed on to his drive films 24/7? Is it right for consumers to make secret video and audible recordings of mechanics as they service their cars?     
Half of me says no. Stop it. Yet the other half feels there's nowt wrong with evidence-gathering lenses pointing at, for example, local authority owned or subsidised buses and other vehicles. And on the grounds that cyclists and revenue-obsessed parking and traffic enforcers make visual and audible recordings of drivers, shouldn't we return the compliment?
Final thought – in the unlikely event that I ever record clear footage of a rider or driver committing an inexcusable, potentially lethal offence like jumping a red light, would I hand my video evidence to the police? Probably. Just as I'd grass up those committing potentially lethal crimes on planes, trains and any other mode of transport.
What do you think of dash cams? Let us know in the comments section below...