"Shocking double standards on safety have to be eliminated"
Car safety is taken for granted in Europe, but there shouldn't be double standards in other regions, says Steve Fowler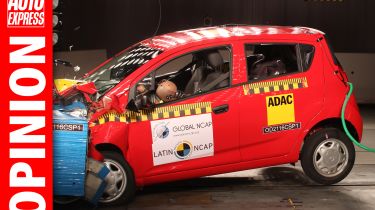 We're very lucky here in Europe. Car safety is something that's taken for granted. By and large, the level of protection on offer in all cars on sale is hugely impressive. And improving.
Technology helps, but technology costs money – money that some car companies don't think it's necessary to spend in other places around the world. 
I was horrified to see the latest Latin NCAP crash tests, covering a growing (and increasingly lucrative) market. There, the Chevrolet Spark GT (above) scored zero stars for adult and child protection. This is a version of a car that achieved four stars in a Euro NCAP crash test back in 2009, so why the difference? Among other things, the European Spark had six airbags, the Latin version none. And the prices of both cars? Not that different.
Chevrolet's parent company, GM, has been under the spotlight on safety recently – in the US following deaths related to faulty ignition switches, and in the UK for much publicised fires in Vauxhall Zafira models. GM boss Mary Barra has been vocal in her insistence that it's safety first for GM.
But Saul Billingsley, executive director of the FIA Foundation, which campaigns for improvements to global road safety, told me: "It's the latest in an abysmal set of crash test results for GM – there's no excuse for it. GM seems to have a blind spot when it comes to safety in Latin America."
• Quadricycle crash tests show worrying lack of safety
Billingsley is calling for a voluntary agreement for all car makers to meet UN safety standards by 2020 in all markets, something we fully support.
Sadly, GM is not alone. We reported on Global NCAP tests earlier this year that revealed Hyundai, Suzuki and Renault cars on sale in India score zero stars. Car makers must understand that a life is a life, wherever it is. And that you just can't put a price on safety.
What do you think about the current state of safety regulations around the world? Leave us a comment below..