Quadricycle crash tests show worrying lack of safety
Euro NCAP has released crash test results for four heavy quadricycles, and it doesn't make for pretty viewing
Crash testing organisation Euro NCAP is calling for more thorough regulation of the safety of heavy quadricycles, after recent Euro NCAP testing procedures showed the vehicles to be very dangerous in an impact.
Heavy quadricycles can be considered a class in between mopeds and compact cars – tiny vehicles with small, low-powered engines intended to be slick city commuters. Often, they can be driven on a provisional or motorbike license, making them an attractive proposition for anybody not able to drive a full-sized car. In the case of lower-powered light quadricycles you only need a CBT certificate at an accredited training centre to get behind the wheel. What's worrying for consumers though is that quadricycles don't need to pass the same stringent crash tests as normal passenger cars.
While these vehicles aren't yet massively popular in the UK, on the continent they certainly are. In some countries, they've developed something of a bad reputation, as people who've lost their full license thanks to drink-driving often get themselves a quadricycle that they can still legally drive. That isn't the case here but quadricycles are becoming more prevalent in the UK, with high-profile examples like Renault's all-electric Twizy coming onto the market promising ease of ownership and rock-bottom running costs.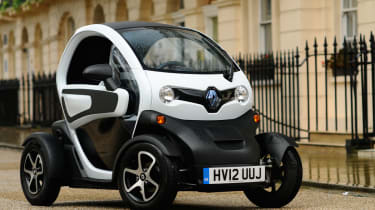 Crash test experts at Euro NCAP first tested heavy quadricycles - including the Twizy - back in 2014, and came up with some shocking results. The vehicles lacked essential safety features such as airbags, while their size and lightweight construction meant that during an impact, occupants could suffer far worse injuries than they would even in an older passenger car. Two years on, NCAP has tested four more quadricycles to see if any improvements have been made – and found that few, if any, changes to improve the safety of these vehicles are evident.
The Chatenet CH30, Aixam Crossover GTR, Bajaj Qute and Microcar M.GO Family were under scrutiny this time, with NCAP adapting its tests to better suit the vehicles. They were subjected to a full-frontal impact into a deformable barrier (rather than the offset impact NCAP normally uses) as well as a side impact. The tests were also carried out at a lower speed of 31mph instead of the 39mph normally used. None of the vehicles scored more than two stars – a very poor rating indeed. For a comparison, when put through the same crash tests, a Toyota iQ city car scored the full five-star rating with ease.
All vehicles suffered severe structural damage as a result of lightweight and poorly constructed body shells. Seatbelts came loose from their fittings, spot welds fell apart, and in some cases even the driver's seat became detached. All four cars suffered intrusion from the steering wheel, leading to the driver's head striking the wheel and causing major injuries.
The Microcar M.GO is the only vehicle of the four to be fitted with an optional airbag, but tests show that this is completely ineffective, with the drivers' head still striking the steering wheel through the airbag. In a rather damning release, Euro NCAP suggested the fitment of an airbag to these cars without greater modifications to the structure of the vehicle is nothing more than a marketing ploy to create the illusion of greater safety.
• Over half of new cars sold with autonomous safety tech
A release from Euro NCAP says: "These add up to unacceptably high risks of fatal or serious injury, even at moderate test speeds." The concern is that these vehicles are becoming ever more stylish and are likely to appeal to those in the market for a city car – but the crash test performance is far below a similarly-sized passenger car.
Despite all this it's still possible to make these cars safer, with Euro NCAP Secretary General Dr Michael van Ratigen saying: "Simple design changes could lead to significant improvements, with little added weight or cost. Pursuing an environmental agenda is not an excuse for unsafe vehicles. Therefore, Euro NCAP again calls for safety to be prioritised for heavy quadricycles."
So what are the options? Euro NCAP recommends steering clear of heavy quadricycles altogether – opting for a small used car is safer, and can be cheaper too. Failing this, it simply suggests ticking every possible safety option box when ordering your vehicle, to give yourself a better chance in the event of an accident.
Would you feel safe in one of these quadricycles? Let us know in the comments below...