Driverless cars on UK public trial for the first time
Pedestrianised areas of Milton Keynes have hosted the UK's first trial of autonomous car tech in a public space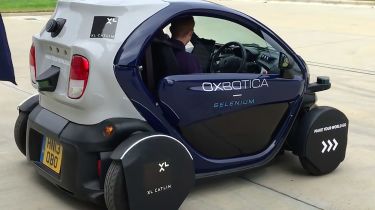 The first public trial of autonomous vehicles has begun in the UK in Milton Keynes, with three self-driving 'pods' taking to pedestrianised areas of the city.                           
The trial forms part of a long-term goal to get autonomous vehicles on UK roads by the end of the decade. Information gathered by the autonomous pods will give the various tech companies involved a greater understanding of how they react with pedestrians and other road users.   
• Driverless cars: everything you need to know
The pods were designed and manufactured by Coventry-based automotive firm RDM, with autonomous control systems that were developed by the University of Oxford's Mobile Robotics Group.
Using an combination of radars and cameras, the pods will negotiate selected areas of the city without any direct human input. Milton Keynes was selected for the trial due to its wider pavements and more developed cycle network which the pods will use. 
"Today's first public trials of driverless vehicles in our towns is a ground-breaking moment," said Greg Clark, Britain's business and energy secretary. "The global market for autonomous vehicles present huge opportunities for our automotive and technology firms and the research that underpins the technology and software will have applications way beyond autonomous vehicles." 
Findings from the project will also be fed to the larger UK Autodrive programme, which will then deploy a larger set of 40 autonomous pods and vehicles in Milton Keynes and Coventry. 
Would you like to see driverless cars in your local town centre? Let us know in the comments...