"Growth in the EV market isn't matched by plug-in points"
Editor-in-chief Steve Fowler is falling in love with electric cars, but laments the lack of charging points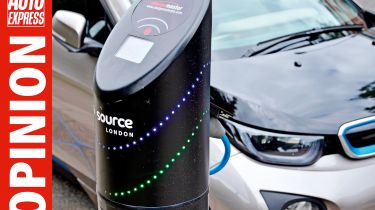 I'm fast becoming an electric car fan. Of the many cars I drove this week during our sister publication Auto Bild's Golden Steering Wheel test session (results on 8 November), it was the Hyundai Ioniq, BMW i3 and Tesla Model X that stood out.
We're at a turning point when it comes to the range of these cars, too. The BMW came with the new 94Ah battery pack which gives the car a theoretical 195-mile range. And at last week's Paris Motor Show, Renault revealed a new version of its all-electric ZOE that will go for 250 miles.
I'm still enjoying the electric power in my current car, a Volvo XC90 T8. Sure, its range is only 21 miles, but the smooth, silent, swift power delivery is a real joy. But not as much as the savings on company car tax and congestion charging.
It seems I'm not alone. Looking at the latest car registration figures for September, 2,128 pure electric cars were registered and 4,135 plug-in hybrids – that's an increase of 37.4 per cent and 69.4 per cent on September last year. At the same time diesel sales seem to be dropping, down to 46.5 per cent of the market last month. Until recently it was outpunching petrol at over 50 per cent.
• "The UK remains a great place to build cars"
As a plug-in hybrid user, this new popularity is causing some concern when it comes to public charging points. We have three in the car park we use, but it's a regular rush to be in to claim one of them before other EV-driving commuters arrive.
Similarly, street-side plug-in points and those I aim for in shopping centres are often frustratingly taken. And that's before we start talking about the 'normal' cars being parked in plug-in spaces!
As an EV evangelist, I'm increasingly telling people to take the EV plunge. But the number of plug-in points needs to keep up with demand.That's not happening yet.
Do you have an electric car? Have you found it hard to find a plug-in point? Let us know below...