Bees know best: boffins say honeycomb streets would cut congestion
Scientists show that cities with a honeycomb road layout are most efficient at curbing congestion and traffic jams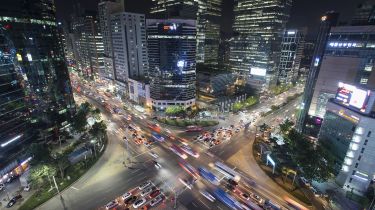 When it comes to the problem of solving traffic congestion, future city planners might want to look at bees buzzing in and out of their hives for some answers. This is because new research has found streets organised in a honeycomb layout are the most ideal for preventing gridlock.
According to a study by scientists at the National University of Colombia, designing cities where only three streets meet at any given intersection, as they do under a honeycomb shape, will prevent congestion and traffic jams from building up far better than under a conventional, rectangular layout.The team of scientists created a mathematical model that allowed cars to drive in one prevailing direction, as is often the case during rush hour when commuters are all hurrying to get in or out of the city, to test how traffic patterns react to different street layouts.
• London is Europe's worst city for congestion
Under a square-based network system, which is a popular layout in modern cities like New York, the traffic ran smoothly until the rush hour when the roads were clogged by traffic building up.
However, the scientists found that under a honeycomb layout the traffic kept flowing smoothly even at same traffic densities that had caused the conventional road layout to clog up. The addition of carefully placed traffic lights improved the flow even more.
But before civil engineering students are handed out books on beekeeping – Eran Ben-Joseph, Professor and Head of the Department of Urban Studies and Planning at the Massachusetts Institute of Technology, points out that hexagonal cities remain a "concept that may work in theory but not in practice." He added: "How would strangers navigate the streets of Hexagonopolis?"
Should future cities in the UK be built with a honeycomb road layout? Tell us what you think in the comments below...