'More ways to buy cars should mean more satisfied customers'
Car manufacturers are working hard to make the buying process more convenient - something that's long overdue, says Graham Hope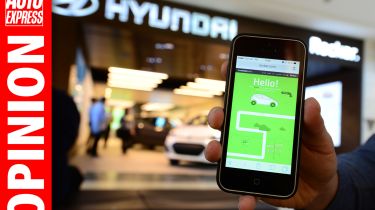 It's commonly accepted that we are living through one of the most exciting periods the car industry is likely to see. As Nissan CEO Carlos Ghosn said recently, there will be more change in the next 10 years than we've witnessed in the past 50.
While the technology and powertrains develop at a ferocious pace, it's fair to say there has been little evidence that how we buy cars will evolve quite so dramatically. But it appears that finally the retail experience is beginning to catch up.
In the past week alone, we've learned of two new ideas that provide an interesting glimpse of the future. Firstly, Hyundai told us that it would build on the success of its two Rockar operations in shopping malls by building smaller 'Tesco Express'-style outlets in busy high streets. "We have to go to them [buyers], rather than them coming to us," explained UK MD Tony Whitehorn.
• New DS Urban Store opens in Westfield London
At the same time, Peugeot showed us its new online system, where you can browse, configure and order your new car from your sofa, then have it delivered to your home – a process Hyundai is also exploring with its Click To Buy. I know for a fact other firms are monitoring these programmes very closely.
Of course, traditionally buyers have wanted some physical interaction with a potential purchase – but according to Whitehorn, even this is changing, with the rise of the PCP. His brand's experience at Rockar has shown that for some: "It is just like buying a phone. So long as you have a price that is less than £250 [a month], people are interested."
To what extent all these innovations will take off is unclear, but what's certain is that manufacturers  are working harder than ever to make the car buying process much more convenient. I'm sure many of you will agree with me when I say it's long overdue. 
How will you buy your next car? Leave us a comment below...