Hyundai to expand dealer network with new Rockar 'light' local stores
UK boss admits the way we buy cars is changing, and is looking at supermarket chains for sales and store inspiration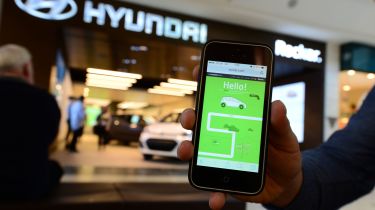 Hyundai will introduce new Tesco Express-style local dealerships on busy shopping streets and thoroughfares to improve brand awareness and "interrupt" potential customers who are reluctant to visit a conventional showroom.
The Korean manufacturer has seen huge success with its first two Rockar stores, which offer interested buyers a haggle-free sales experience without the pressure of an established dealership. By placing the shops in key areas, Hyundai effectively interrupts you while you shop, according to UK managing director Tony Whitehorn.
However shops in these high-footfall out-of-town malls are expensive to maintain, so Hyundai is looking at similar, more cost-effective solutions to sell its cars.
Whitehorn told us: "If you look at what's going on in the supermarket world, it's odd. You'd think that today everyone would be buying all their commodities online and have them delivered. Yet Tesco, Sainsbury's and Morrisons are all building new stores.
"However, what is changing in the supermarket environment is that they are not building big stores. They're all doing smaller, local stores. People want to have that physical presence. There still needs to be a relationship with a tangible offering."
Car sales aren't going fully online just yet
The Rockar stores have shown that while people are prepared to buy online, none are ready to totally detach themselves from the more predictable process of visiting a dealer to research and buy their new car. While this may change in the future, the current mind-set is to have your purchasing decisions validated by an actual human being.
Whitehorn told us almost 2,000 people have bought a car from Rockar over the past 18 months, but that almost every single one of them has been in the store. "Nobody in this moment in time wants a pure digital experience," he said.
"When you buy a car, you know you want the car serviced. If it goes wrong, where do I take it?"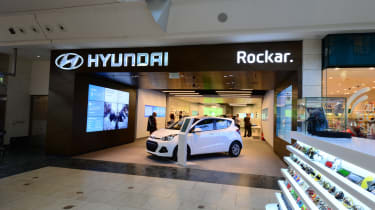 The future for Hyundai, and indeed the wider automotive industry, then, is a matter of merging digital with physical. It's about giving people the confidence to buy online, safe in the knowledge that if anything goes awry, they can get the issue fixed without quibble. Rockar answers these reservations by placing trained ambassadors in the store – removing the often stressful process of having to deal with potentially pushy salespeople.
"We have to go to them rather than expecting them to come to us," Whitehorn emphasised. "No one ever went to Bluewater to buy a car.
"People used to think that buying a car was the second most expensive thing you bought, but it's not. It's just like buying a phone. Perception has changed – so long as you have a price that is less than £250, people are interested."
It's this soft-sell approach that has seen Hyundai's average age profile plummet from around 52 in a standard dealer, to just 39 at Rockar's Bluewater store. A massive 92 per cent are conquest sales, while 54 per cent are women. Normally that last number is closer to 10 per cent.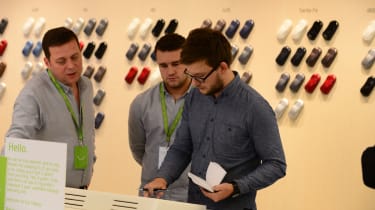 Smaller, less expensive stores will take everything that has worked from Rockar, effectively localising Hyundai's dealer network by offering people more convenient places in which to research, buy and service their cars.
"From a pure business point of view, we're attracting new, younger people, and we're getting women into the brand," Whitehorn told us. "These are the people everybody wants – and localised dealers are a solution to achieving this growth."
Whitehorn concluded: "I think supermarkets are brilliant retailers. We can learn a lot from them.
"Sainsbury's and Tesco have looked at where the space is – and the space is in local stores. Now, those are the only stores they are opening," he said.
"The industry knows digital is the route, they're just not sure how to do it. Within 18 months, everyone will be doing this."
Would you buy a car online without visiting a dealer? Let us know in the comments...