Hyundai's 'Rockar' digital car dealer hits 100,000 visitors
Hyundai's innovative virtual showroom records 100,000 people through its doors, with 1,000 sales predicted for 2015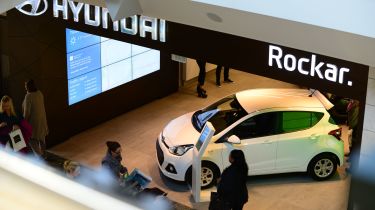 When we visited Hyundai's 'Rockar' virtual dealer at the end of last year, we were keen to see if trying something different would pay off. And the firm has now recorded 100,000 visitors to the showroom in six months, with around 1,000 sales predicted in total in 2015.
The Rockar showroom is pioneering a fresh car buying platform compared to the usual salesperson-led dealer experience. It uses touchscreens and digital devices to allow you to browse, test-drive, sell your car and buy a new one at the touch of a button, with no interaction from sales staff.
The 0.5 per cent conversion rate from visitors to sales might not sound like much, but if the predictions are correct it'll be nearly twice the average sales per dealer that Hyundai recorded in 2014. The showroom location (the Bluewater Shopping Centre, Kent) appears to be benefitting from the increased footfall.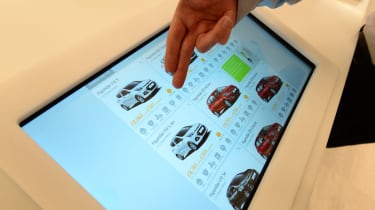 Hyundai claims the showroom can see more visitors on a single Saturday than some of its traditional dealerships will get in a whole year. Simon Dixon, founder of the Rocker dealer branch, says it is helping to engage younger people in new car purchasing.
"The average age of a new car buyer is 56 years, but the average age of a Rockar customer is just 37". He goes on to mention that 60 per cent of buyers are female, and a whopping 95 per cent have never owned a Hyundai before.
There's no mention of plans to extend the Rockar experience to other Hyundai dealers in the UK, but judging by the figures recorded so far at the Kent store, you could be seeing a dealer without salespeople in your area in the near future.
Now read about how some car dealers change light bulbs for free, while others charge £70.