Some car dealers change light bulbs for free; others charge £70
Our investigation reveals alarming variations in main dealer prices for replacing a car head light bulb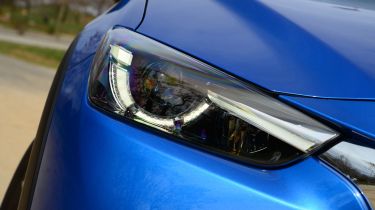 How many Pounds does it take to change a light bulb? It's not a new take on the classic joke, but it's what Auto Express asked hundreds of dealers in the UK in a bid to find out if consumers are getting a fair price for headlamp repairs. And our in-depth investigation revealed the startling difference in price quoted by franchised dealers for the simplest of tasks that can be done by owners themselves.
Prices varied between dealers by almost £20 on average, with some offering free labour, some offering a free bulb and others charging exorbitant fees – upwards of £70.
• Worst car manufacturers revealed by over 61,000 car owners
Auto Express picked 50 of the most popular cars in the UK and anonymously contacted three dealers across the country for each model. We asked them how much they'd charge us to supply a new headlight bulb and what it would cost to fit it.
The Nissan Qashqai returned the biggest disparity of £44.60, with prices starting at £5.40, rising to £15.39 and peaking at £50. The second biggest price difference was for the Renault Captur. One garage offered to supply and fit a new light bulb for free, while another wanted £40. The Renault dealers also disagreed on whether the work should be covered under warranty. 
The Mazda 3 returned the third biggest disparity of our trio, as well as providing the single highest quote for changing a bulb, at a staggering £71.99. A Mazda spokesman told us, however, that on the Sport Nav model the xenon headlight replacement is covered under a three year warranty so the dealer shouldn't have quoted a price. Halogen Mazda bulbs are covered by a one year warranty.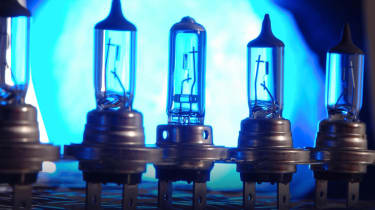 With some headlamp units harder to access and bulb costs varying, it's unfair to directly compare models, but the average price of the bulbs plus labour was £22.77. 
Volkswagen was the most consistent when offering quotes, with all nine dealers we contacted  – for the Polo, Golf and Passat – wanting the same amount: £16.40. The next best was Skoda, which had a variation of £1 (£15 to £16) between its three dealers for the Yeti. Volvo came in third, with dealers quoting between £10.08 and £15 – all with free fitting – for the XC90.
Our research also highlighted the varying levels of customer service provided by different dealers. On the whole, premium brands performed worst for phone manner in our top 50 research, while Audi and BMW's dealers were unable to offer us an estimate without exact number plate and ownership details. Meanwhile, Skoda and Volkswagen – responsible for the two closest quotes – were the most helpful over the phone.
Industry regulator Motor Codes said the results highlighted how important it was for consumers to try several avenues to find the best deal when getting repairs done. "Labour rates vary vastly in the UK. If the work has to be done at a dealer or a garage, then the advice is to shop around before you buy," a spokeswoman told us.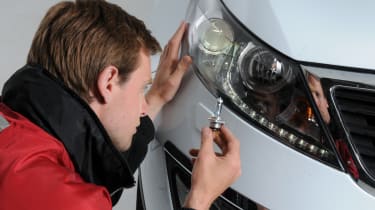 One option would be to try a local, independent garage, as getting a light bulb changed away from a dealer – so long as you purchase approved parts – won't void your manufacturer warranty. 
Paul Tomlinson, battery, bulbs and blades expert at Halfords, which offers a bulb replacement service from £7, said: "We are committed to offering replacement bulbs at great prices as we believe customers shouldn't pay over the odds for safe journey essentials and to keep their car legal."
The highest quotes from car dealers to change a light bulb
Changing a light bulb: the biggest differences in quotes
Have you ever paid through the nose for having a car light bulb changed? Have you had trouble doing the swap yourself? Let us know in the comments section below...