'Is internet shopping the future for car buyers?'
Asda experimented with selling cars in the 1980s - but could the internet shopping era herald a return of supermarkets becoming car dealers?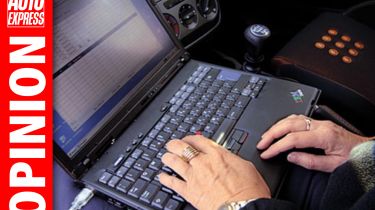 Asda will loan you the cash to buy a new car, before selling you annual insurance and breakdown cover. Then it'll provide fuel, oils, parts, accessories, safety kit, mobile phones for gloveboxes plus countless other automotive products. But direct or indirect retailing of price-slashed cars for the masses it doesn't do – yet. 
True, the supermarket chain bravely tried several decades ago, but its then revolutionary Asdadrive project crashed and burned, largely because it was way ahead of its time. Since then, that Interweb thing has taken over and massively altered the world, where consumers are happy to order goods unseen from reputable outlets' websites. 
• How and where to buy a new car
Back in the mid-eighties, the Asdadrive experiment suffered inventory and space problems as its cars stole valuable customer car parking bays that were required to display the mass-produced vehicles it was trying to sell. But now Internet-based shopping is the norm for many folk, non-franchised retailers of cars don't need to have stock or great knowledge of the models they're peddling to bargain-seekers, who usually know what they want and what they should pay.
So the late 2010s and early 2020s are just right for Asdacars, or something similar. With vehicle manufacturers, their franchised dealers, plus Web-based specialist firms on one side and loyal, bargain-obsessed customers on the other, Asdacars could and should act as the go-between, the enabler, the facilitator. Give it time and I think it'll happen. 
• "Hyundai has been transforming how people buy cars" - Steve Fowler
So why Asda and why not Sainsbury's, Tesco or Morrison's? Because Asda's owned by Walmart. And this US-based retail giant has announced it's saddling up with dealer groups and others as it moves into the car- selling business from 1 April. Customers will buy online via Walmart while at home or work or use in-store, self-op kiosks to place orders – with some of Walmart's 2.1 million workers on hand to assist. But while they'll be able to click in-store, they'll usually collect from dealerships. 
It's inconceivable this truly global chain will not broaden its car retailing operation to other countries, Britain included. A further twist is a leading car company CEO has just told me, off the record, that "I'm in discussions with a couple of parties on this, and will keep you posted". Almost certainly, 'Asdacars' is one. The identity of the other is top secret. But I suspect not for much longer.  
Would you consider buying a car online? Let us know your thoughts in the comments below...