"Hyundai has been transforming how people buy cars"
The brand's Rockar shopping centre store is a great new way to buy a car, and other car makers should follow suit, says Steve Fowler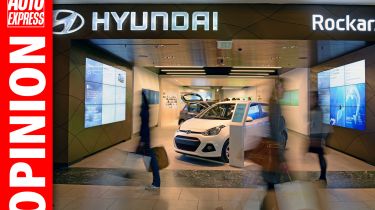 For the past year, Hyundai's Rockar store in the Bluewater shopping centre in Kent – and its accompanying website – has been transforming the way people buy cars. I'm a fan – as I've said before, it's about selling cars where people are, not where they're not!
Has it worked? Seems so – we can exclusively reveal that Hyundai is opening a second Rockar store next month, this time in the Westfield shopping centre in Stratford, East London.
I know that plenty of other manufacturers have been watching closely to see how buyers react to the store and its no-pressure approach from 'angels' rather than sales people. Or whether they still prefer to go to the more traditional dealer.
• Genesis G90 heads up Hyundai's premium sub-brand
So here are some of the stats that might help persuade them it's a good idea: while Hyundai won't reveal numbers, Rockar is in the Top 10 of its dealers for cars sold. 163,000 people have been into the store in the past year. The average age of buyers is 39 – Hyundai's average at other dealers is 56 (and the industry average is 52). Women account for 54 per cent of Rockar customers – roughly double what it is elsewhere. And half of Rockar's customers transact online after visiting the store in person. 
Hyundai UK's President and CEO Tony Whitehorn assured me his other dealers are happy about it, too. "They've had people buy from them who've been into Rockar," he told me.
And it's not quite the end of the traditional dealer, either. "The Internet is becoming a vehicle for transacting as well as information, but for us it's about clicks and bricks – many people still want to go into dealers," said Whitehorn.
Of course, he has a large dealer network to keep happy, but Hyundai has taken the brave pill and it seems to be working for it. I've been there and it's a great new way to buy a car. Other makers should (and will) follow suit.
Do you think other car makers should do the same? Let us know below...