"Britain has clung to its position as 10th largest auto producer"
Mike Rutherford looks at the UK manufacturing industry, and where it sits in relation to the rest of the world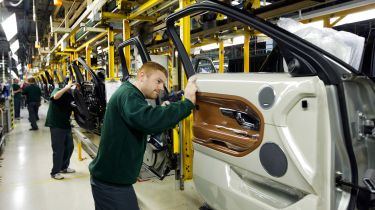 Just seen some up-to-the-minute figures showing how the world's leading motor manufacturing countries fared last year. Now I don't know whether to laugh, cry or resort to suspicion bordering on disbelief.
Did China really build 24 million of the 72m cars made last year? If true, this means the Chinese churned out millions more than second-place Japan (7.9m), Germany (5.7m), the US (3.9m) and South Korea (3.9m) combined. Unbelievable.
India (3.7m) is the next big thing, and is poised to overtake Korea, the US and then even Germany, thereby creating an Asian lock-out in the global Top 3 by 2020.
• The global car manufacturing wage gap
But Spain and Mexico, producing 2.4m and 2m cars respectively, are other rising stars, while Brazil (1.8m) isn't doing bad in ninth place. After a whirlwind 2016, Britain clung to its impressive position as 10th largest producer with 1.7m cars.
Significantly, we're ahead of subsidised France (1.6m), the dark horse Czech Republic (1.3m) and troubled Russia (1.1m). Iran, Slovakia, Indonesia and Turkey made 1million motors apiece; Thailand and Canada 800,000 each. It's tragic that the once mighty Italy has been relegated to a lowly 20th in the world, producing just 700,000 cars a year. But Spain along with SEAT (orphaned by Italy and Fiat in the eighties) are having the last laugh; they now build four times more than Italy with its many famous brands including Ferrari.
At the bottom end of the scale, war-torn Ukraine somehow managed to build 4,340 cars and Venezuela made 849. But Bangladesh – still listed as having 16 automobile makers – tried and failed to increase output from one car to two cars per day. Nigeria was, according to an upbeat Ford Motor Company, due to build Blue Oval products from 2015, yet had official production figures of zero cars, vans or buses in 2016.
On the same continent, Algeria is now the fastest-growing car producing nation anywhere on the planet – thanks largely to investment from French giants who know Algerians can be paid the sort of low wages (£1-£2 an hour) Indians and Mexicans earn.
Auto workers across the Med in France enjoy unsustainable hourly rates of nearer £30. Consequently, they can expect more of 'their' jobs to be exported to ultra-low-wage North Africa – which may be building your next Peugeot, Citroen or, heaven forbid, Vauxhall.
What do you make of the UK's position? Let us know in the comments section below...