Fixing roads in England and Wales would cost £10bn
New figures suggest it would cost nearly £10bn to restore roads in England and Wales to a "reasonable, steady state"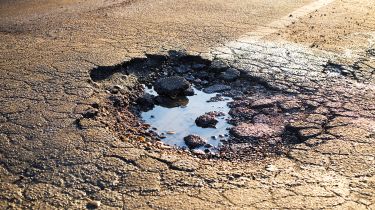 It would cost nearly £10bn fix England and Wales' damaged roads, according to new data.
Figures from the Asphalt Industry Alliance's (AIA) Annual Local Authority Road Maintenance (ALARM) survey suggest that the cost of restoring the roads in England and Wales to a "reasonable, steady state" would be approximately £9.79bn – that's £69.9m per local authority in England (excluding London), £31.9m in London and £36.3m in Wales.
• How to claim for pothole damage to your car
The survey reports that local authorities' annual highway maintenance budgets have increased by almost 20 per cent for the second consecutive year – from £20.6m per authority in March 2018 to £24.5m in March 2019 – including a share of £420 million additional funding allocated to councils in England in the November 2018 Budget.
In spite of the fact that the extra money does appear to be halting a further decline in road quality, though, the one-time catch-up cost is continuing to rise.
The ALARM survey 2019 was completed by 64 per cent of authorities responsible for roads in England and Wales. They reported that, on average, 55 per cent of their annual highway maintenance budgets is spent on the carriageway.
A huge disparity in funding was also revealed, with some local authorities receiving the equivalent of £90,000 per mile of their individual networks, while others only got £9,000 per mile.
The survey indicated that there's an annual carriageway budget shortfall of £657m – £4.1m per authority in England (excluding London), £4m in London and £2.8m in Wales – while the average time before a road is resurfaced is 67 years – 79 years in England (excluding London), 28 years in London and 59 years in Wales.
On the plus side, more potholes are being fixed now – an equivalent of one every 17 seconds. That said, the total cost of dealing with pothole compensation claims was £26.7m, £6.9m of which was the compensation itself.
Rick Green, chairman of the AIA, said the organisation was standing by its call from last year for £1.5bn of additional funding for local roads each year for the next 10 years to"allow them to be brought up to a condition from which they can be managed in a cost-effective way".
• Drivers face £700 annual road toll bill as EVs hit fuel duty revenue
AA president Edmund King warned that, while the figures show that local authorities are finding their way "out of the rut", any slackening off will "pitch our roads back into a deep hole".
Nicholas Lyes, head of roads policy at the RAC, urged the Government to "recognise the importance of local roads and give authorities the certainty of long-term funding".
"We believe the best way to do this would be to ring-fence existing funds raised from fuel duty," he added.
 How are the road conditions where you live? Tell us in the comments below...