Which is the UK's slowest motorway?
It's official, and somewhat unsurprising, the M25 has the slowest average speed of any UK motorway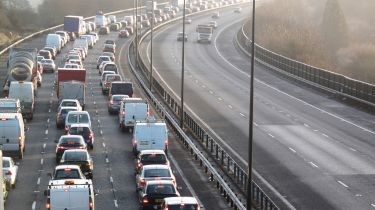 The UK's slowest motorway has been officially named, with the M25 circling London clocking a miserable average speed of just 25.05 miles per hour last year.
The M4 between London and South Wales was found to be the second slowest stretch of motorway in the UK with drivers reaching just 30.46 mph on average, according to the figures by vehicle tracking company Satrak. Analysing data from 527,000 cars for over a year, the firm also found that the average speed on the 10 slowest motorways in the UK was a measly 41.17mph.
• Latest traffic updates from the M25
While London and its surrounding boroughs are the usual suspects for congestion, three of the top five most congested motorways were located further north. Drivers on the M606 in West Yorkshire averaged just 40.68mph over the year, while those driving near Leeds on the M621 reached just 42.32mph on average.
Further up, the M73 between Glasgow and North Lanarkshire was found to be the slowest motorway in Scotland, and the fifth slowest in the UK, with an average speed of 43.71mph.
Surprisingly, the report also concluded that Cambridge, not London, has the slowest city traffic in the UK with drivers in the old university city reaching an average speed of just 13.73mph.
In fact, the capital was ranked third in the UK, behind Hereford (14.09mph). Drivers in London were found to reach an average speed of 14.59mph. None of the top 10 slowest cities had average speeds exceeding 20mph. Oxford was the 10th slowest city in the UK with an average speed of 16.49mph.
Dan Walton, managing director at Satrak Vehicle Tracking, said: "It's little surprise to find that the M25 is in fact the slowest motorway. We undertake work throughout the country and usually find the M25 to be the most cumbersome, and our data provides evidence for that. I've heard of tailbacks stretching 12 miles in my time there so it's of little surprise to me."
Which of the UK's motorways is the worst for traffic congestion as far as you're concerned? Let us know in the comments…