'Autonomy needn't spell the end of cool design'
What will self-driving cars look like in the future? Editor Graham Hope speaks to the design chiefs at Audi and Renault to find out...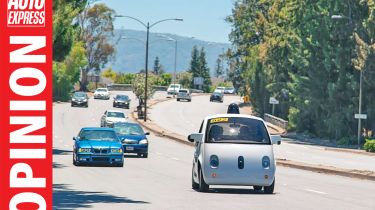 There are many reasons why those of us who report on the car industry remain a bit sceptical about an autonomous driving future. One genuine widespread concern is what the cars might look like. Let's face it; some of the early iterations we've seen, such as the Google car or 'white box' concepts at motor shows, do little to whet the appetite.
But recent chats I had with the design chiefs of Audi and Renault, Marc Lichte and Laurens van den Acker, have helped to allay my fears. Both say we are about to enter a fascinating new period for car design.
• Everything you need to know about autonomous cars
According to Lichte, autonomy will spark a new level of creative thinking. "In the past we designed exteriors, made them super sexy, and then asked how we can put the seats and dash inside," he explained. "In future we will think about the user experience. Is it an inter-city car? An urban car? So you start with the interior, and then finally do the exterior. It's the opposite of today, and very exciting."
Van den Acker, meanwhile, pointed out autonomy will help change the concept of ownership. Where 20 years ago you bought a car outright, and now you do it via PCP, in future, he says, you'll pay by kilometre. And this, he claims, will lead to cutting-edge design.
"This means that, yes, while you could be driving around in a 'washing machine' autonomously, it also means you could buy yourself 10km in something like a Rolls-Royce for a special night out. So there will be more diversity more accessible to more people."
Van den Acker also believes that the Autolib EV sharing service in Paris offers a real warning. "They are not attractive and used as trash cans," he said. "An autonomous Renault would have to pull on your heart." That the great minds of the industry are already crafting solutions to this very real issue gives me hope that our autonomous future may not be as nondescript as some of us initially feared.
Are you excited about the cars of the future? Let us know in the comments section below...