'Tesla's Elon Musk seems scary, but that's imperative if you aim to conquer the world'
Mike Rutherford praises Tesla boss Elon Musk, but thinks tougher times may be ahead for the American company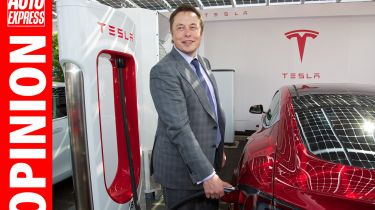 Tesla's Elon Musk has everything – and more. Like or loathe him, he's smart, unpredictably brilliant, ridiculously wealthy, hard-headed, dangerously defiant and the bravest man in the motor industry.
He seems a bit scary, too. And yes, this is a further compliment, as such a trait is imperative for anyone out to conquer the world. And that's what Musk, 45, is doing. The motor industry – and the associated energy sector – needed a revolution, and it got one.
Apart from the fact that no American or Asian motor industry entrepreneur is richer than him and his $14billion, Musk's Tesla was recently declared the most valuable car maker in the States, with a market value of $50.88billion. Astonishingly, Tesla's market capitalisation is now equivalent to $102,000 for every car it plans to make next year, or $667,000 per car sold in 2016. The like-for-like figure for General Motors is $5,000 per car sold last year. If shareholders complain that he's too much of a one-man band with not enough directors around him, he mockingly advises them to buy into Ford.
Some financial experts insist that investing in Tesla isn't advisable as, according to them, it's a deck of cards waiting to collapse. Musk doesn't lose sleep over this. His latest idea of a network of roads beneath cities is something I've proposed over the decades. Now he's nicked it from me, my solicitor will be speaking with his corporate lawyers. Again, he won't be worried.
On a more serious note, America's Consumer Reports organisation has gone from Tesla fan to doubter, after recently naming the Model X as one of the 10 least reliable vehicles. This is worrying, as is the proposal to hike Tesla production by almost 500 per cent by 2018. Impossible, I reckon. Especially after recent industrial action at the factory.
Another concern is that Elon's had no direct competition from premium brands such as Jaguar, Porsche, Mercedes and Audi. That's about to change, and remember these giants can build cars in the hundreds of thousands: Tesla hasn't yet succeeded in making 100,000 a year.
Brave souls such as Freddie Laker (cheap flights) and Eddy Shah (colour newspapers) were business pioneers, but ultimately failed and lost almost everything as rivals played a smarter, more patient game. I hope I'm wrong, but I fear Musk might go the same way – even if Tesla, under new ownership perhaps, is here to stay. Which it undoubtedly is.
Do you agree with Mike? Let us know in the comments section below…