'Car makers are branching out to cut emissions'
News editor Jonathan Burn is pleased to see car manufacturers looking into innovative ways to help tackle energy usage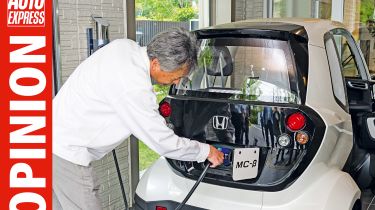 A week barely goes by where CO2 emissions aren't in the news. The VW scandal brought the debate to life, while Donald Trump's recent decision to withdraw the US from the Paris Climate Agreement will ensure the discussion around CO2 emissions won't be leaving the headlines anytime soon.
Driving down emissions is a priority for every car manufacturer, but rather than simply increasing engine efficiency or ramping up electric vehicle production, some are developing truly innovative ways to help tackle one of the planet's biggest issues.
Take Honda for example. Last week, it opened the doors to its R&D facility in Tochigi in Japan, and I was one of a handful of journalists invited to see the future technology it's working on.
Its latest innovation is something called Honda Smart Home System, or HSHS. Using renewable energy sources within a home isn't new, but Honda is ramping it up to unprecedented levels. Real-life case studies of families in Japan have seen household CO2 production fall by over 49 per cent annually by using solar energy and natural gas generators to power household appliances and charge EVs (above). By 2020 Honda believes it can make homes carbon neutral when hydrogen generators are rolled into HSHS.
That's an astonishing claim, which could radically change the world we live in, and save consumers thousands of pounds in energy bills every year. But Honda is not alone; Renault, Tesla and Nissan are all championing similar technology by using second- life batteries from electric vehicles to power homes.
The technological know-how among car makers has unlimited potential and it's surely only a matter of time before an industry that takes a lot of flak for being one of the largest contributors of CO2 will be getting the praise it deserves for its efforts to help reduce it.
What do you think is the best way to drive down emissions? Let us know below...