Driving test examiners may receive body cameras after attacks by failed candidates
Attacks on examiners rose a third last year, prompting a crackdown from DVSA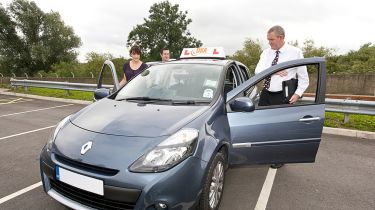 Driving test examiners could be given body cameras after a spate of attacks by failed candidates.
Around 240 examiners were physically or verbally abused in 2016, up by a third on the previous year. There were a further 60 attacks on DVSA vehicle testers and roadside enforcement officers.
• Practical driving test tips: how it works and our advice for passing
The Government agency is now trialling body-worn cameras for front-line staff. They will initially be given to roadside workers but could be rolled out to include driving test examiners if they prove effective.
The DVSA also pledged to make abusive learner drivers take their next test at a different location, and promised to refer all incidents of threats and assaults to the police.
In March a driving test candidate in West Yorkshire who was asked to stop his car after committing a number of serious errors swore at the examiner and drove wildly across a dual carriageway. The examiner had to use dual controls to stop the vehicle. The driver was banned from that test centre and will be supervised for future tests.
Gareth Llewellyn, chief executive of the DVSA, said: "I am immensely proud of my colleagues at DVSA, all of whom work incredibly hard to help you stay safe on Britain's roads. We do not tolerate anyone abusing, threatening or assaulting them. Our message is clear - whatever has happened, don't take it out on our staff. If you do, we'll press for the strongest possible penalties."
RAC road safety spokesman Pete Williams said: "Examiners at the DVSA play a vital role in ensuring the safety of drivers and vehicles on our roads on a daily basis. It's therefore disappointing to see such a marked increase in the level of verbal and physical abuse they are encountering from the very people they are trying to help.
"The majority of UK drivers and road users will wholeheartedly support a zero-tolerance approach to such behaviour."
Should driving examiners be given additional protection in the form of body cameras? Tell us what you think below.