Kia introduces £2,000 scrappage scheme
A flat fee of £2,000 is offered on any car older than seven years traded in for a new Kia Rio or Picanto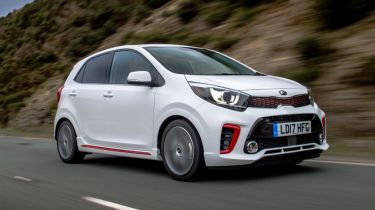 Kia has launched its own scrappage scheme in the UK, offering £2,000 to drivers trading in their old car for a new Kia Picanto or Rio.
The scheme is already available at Kia dealers across the UK and runs until December 2017. Cars traded in must be over seven years old, and the £2,000 flat fee is on top of other Kia incentives offered.
The deal requires no special measures by owners – as long as the owner details of the old vehicle match that of the new vehicle the £2,000 bonus is guaranteed. All vehicles traded in will be scrapped.
Kia said it expects to sell at least 4,500 Picantos and Rios until the end of the year. It estimates that if each of the models replaces a seven-year-old car carbon dioxide emissions would be reduced by 1.6 metric tonnes over a similar period of ownership.
Kia's President and Chief executive Paul Philpott said: "A number of scrappage schemes – many applying only to bigger models with higher emission levels - have been launched recently, but the Kia seven year switch scrappage scheme is simple and easy to understand. It applies to all versions of the low-emission Picanto and Rio ranges and is guaranteed as long as the buyer of the new car is also the owner of the car being scrapped."
Would £2,000 off your old car be enough incentive to trade it in for a new Rio or Picanto? Let us know below...