£2,500 fines for roadworks to cut congestion
Utility companies to be charged £2,500 a day for digging up busy roads under new plans to cut congestion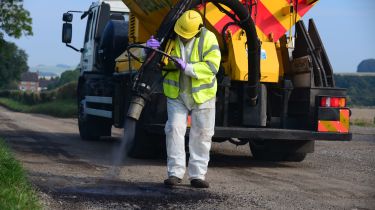 Utility companies could be charged as much as £2,500 day for digging up roads during peak hours under new proposals to reduce congestion.
The Department for Transport announced it is considering introducing lane rental schemes across the UK by the end of 2019 following successful trials in Kent and London. Under the DfT's plans, utility companies could face charges as high as £2,500 for each day they spend digging up local roads. The fines would be council issued. 
The DfT's aim is to incentivise firms to coordinate their repair and build efforts as well as encourage them to work outside rush hour periods. It estimates around 2.5 million roadworks are carried out each year, costing the economy around £4 billion in increased costs to businesses through late employees or deliveries. 
Successful trials in London and Kent have already seen delays caused by roadworks fall by a half as utility companies have increased the amount they work together by six-fold. Councils currently use permit schemes to monitor roadworks, but lane rental would give them additional powers to manage roadworks during busy periods.
• Motorway speed limits near roadworks could be raised
Transport Minister Jo Johnson said: "Drivers often see red when roadworks cause them delays, especially if no one is working on them.
"Lane rental has seen a massive drop in disruption to drivers as utility companies have changed when and where they carry out work. Now we want millions of motorists around England to get the same benefits."
Edmund King, president of the AA said: "Drivers are always baffled that the water company will dig a hole and fill it, only for it to be opened up again by their broadband provider weeks later. We hope that collaboration and cooperative work plans between service providers will now be standard practice.
"One issue that we hope is resolved with lane rental is making sure that whoever digs up the road returns it back in a good state. It wouldn't be acceptable for the road to be patched up quickly and poorly, just to try and keep within their rental period."
Do you think charging utility companies by the hour will result in quicker road works? Tell us in the comments below...