Motorway speed limits near roadworks could be raised
The Government has announced new plans to raise speed limits near roadworks on motorways to cut congestion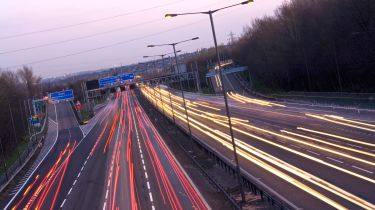 Motorways and trunk roads could see faster speed limits introduced near roadworks under new plans to cut down on congestion.
The Department for Transport wants to raise speed limits near roadworks from the current maximum of 50mph, and has tasked Highways England to determine whether this can be done "safely."
The agency is currently running a trial on a four-mile stretch of roadworks on the M1 with a 60mph limit. If the trial is declared a success faster limits could appear throughout the country.
• Delivery vans to blame for record traffic levels
Transport minister John Haynes has also asked Highways England to limit roadside works to no longer than 10 miles, as well as increasing the number of lanes open during roadworks.
The reforms are much needed as the latest traffic predictions by the DfT estimate a potential 55 per cent rise in traffic numbers by 2040. The next few years will also see a rising number of roadworks as Highways England is currently busy converting over 4,000 miles of the motorway network into new 'smart' motorways. Smart motorways will use the hard shoulder as an added lane during busy periods as well as variable speed limits to cut congestion.
• UK road traffic is worse than ever
Haynes said: "I have asked Highways England to look at shortening the length of roadworks to reduce the impact on road users.
"Following my discussion with them, Highways England are working towards utilising shorter lengths and looking at whether they can safely increase speed limits through roadworks, which will improve the overall customer experience and minimise disruption."
Edmund King, president of the AA, said: "If you look at sections like the M3 from the M25 to Basingstoke, you have 25 miles of roadworks with a 50mph limit.
"It's very difficult for drivers to concentrate over a period of time at those speeds. Shortening the length of those roadworks would make it safer and mean less people are caught out."
What do you think of the plans to raise speed limits near roadworks on motorways? Tell us in the comments below...