Killer drivers to face life sentences
Drivers causing death by dangerous driving or while under the influence of drugs or alcohol will now face life sentences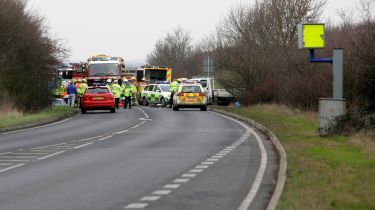 Motorists who cause death by dangerous driving will now face life sentences according to new plans announced by the Government.
Drivers causing death by dangerous driving, speeding or using a mobile phone behind the wheel could now face sentences equivalent to manslaughter, with the maximum penalties raised from 14 years to life, the Ministry of Justice confirmed.
The announcement follows a consultation launched last year seeking to change penalties for the worst vehicle crimes. The plans also include introducing life sentences for drivers who've caused death while under the influence of drugs or alcohol.
• Road fatalities reach five-year high in Britain
Last year saw over 1,792 deaths on British roads, up four per cent from the previous year and the highest number in five years. The same year saw 157 people sentenced for causing death by dangerous driving, with a further 32 convicted for causing death by careless driving.
The Department for Transport is currently reviewing whether cyclists causing death by dangerous or careless cycling should face the same sentences as motorists.
Justice Minister Dominic Raab said: "We've taken a long hard look at driving sentences, and we received 9,000 submissions to our consultation. Based on the seriousness of the worst cases, the anguish of the victims' families, and maximum penalties for other serious offences such as manslaughter, we intend to introduce life sentences of imprisonment for those who wreck lives by driving dangerously, drunk or high on drugs.
"We will introduce a new offence of causing serious injury by careless driving, punishable by imprisonment, to fill a gap in the law and reflect the seriousness of some of the injuries suffered by victims in this category of case."
Do you agree with the newer, tougher sentences for dangerous drivers? Tell us in the comments below...