Owners of autonomous cars may face bans on all distractions while the car is driving
New laws could be introduced that outlaw driver distractions, from reading to sleeping, when the car is in control, a new study has said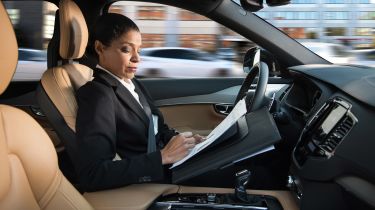 New laws could be introduced that prohibit drivers of autonomous cars to watch TV, read the papers or use their phone when the car is in control, as this could mean they are less able to react to an emergency or take back control from the car. 
According to a new study by autonomous vehicle consortium Venturer, drivers taking back control from an autonomous car needed a lag of around two seconds before they were in full control of the vehicle. At speeds of 50mph, this means a driverless car can travel up to 45 metres with neither the driver nor the car in full control. 
• Driverless cars: everything you need to know about autonomous vehicles
To ensure drivers are able to take back control as quickly and safely as possible, the study said drivers should be at their most vigilant, especially if the vehicle requires them to take over control without a warning. Professor Sarah Sharples, Associate Faculty Pro-Vice-Chancellor for Research and Knowledge Exchange and Professor of Human Factors at the University of Nottingham, who provided advice for the study, said: "It is therefore important to understand the implications of increased autonomy on the capability of humans to maintain vigilance and attention in order to be able to respond to an emergency situation.
"It may also be necessary for the rollout of highly autonomous vehicles to be accompanied with the advice – or even law – that in some or all circumstances the driver must maintain attention to the driver situation and that other activities should be minimised or avoided."
Drivers could also face a new driving test before allowing driverless cars to take full control. Professor Natasha Merat from the Institute for Transport Studies has previously suggested that there should be a new form of licencing and training for autonomous vehicles to ensure drivers are able to take back control quickly and safely. 
The study also poses questions for the insurance industry. In accidents involving autonomous vehicles, insurers have already agreed to pursue rights of recovery from either the vehicle manufacturer or the driver, whichever is to blame for the accident. However, the time lag between a driver gaining full control of the vehicle represents a potential grey area for insurers.
Insurers might even have to consider the response times of different drivers, as older drivers will likely be, on average, slower to respond than younger drivers. This could result in younger drivers facing cheaper premiums in the future, while older drivers would have to pay more to cover the potentially higher risk they have on the road. 
Would you be less inclined to own an autonomous car if you couldn't read the papers or watch TV when the car is in control? Tell us your thoughts on the comments below...