New laws needed to protect mechanics from electric and hybrid cars, say experts
High voltage systems of EVs and hybrids are putting "have-a-go" individuals' lives at risk, says Institute of the Motor Industry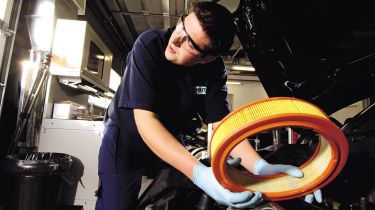 New laws are needed to protect mechanics from the high-voltage electrical systems in hybrid cars and electric vehicles (EVs), according to a leading industry body.
The Institute of the Motor Industry (IMI) has met with the Department for transport (DfT) calling for a change to current regulations, which offer minimal guidance for garage staff working on the latest alternatively-fuelled vehicles (AFVs).
• Best electric cars on sale now
The wiring, motors and batteries in EVs and hybrids typically run at several hundred volts, presenting significant danger to those working on them. The IMI says: "untrained 'have-a-go' individuals are putting their lives at risk by attempting to repair and maintain Electric and Hybrid Vehicles."
The organisation, which certifies 100,000 people a year through its training programmes, is calling for a new mandatory professional register to prove mechanics are "competent, skilled and identifiable" to work on hybrids and EVs. This, the IMI says, would: "keep the existing regulations modern and in line with rapid changes to technology within the automotive sector." 
The laws surrounding electrical safety, detailed in the Health and Safety at Work Act (1974) and the Electricity at Work Regulations (1989), are "open ended", according to the IMI, merely referring to "systems in vehicles".
While the IMI concedes the industry is experiencing "technologically disruptive times", it says regulation is "failing to establish the technical details …to keep technicians safe from the danger of electricity when working on such complex vehicles". The IMI adds that: "reform is needed to fill the regulatory void", calling on the Government to make: "Significant changes to consolidate and extend the provisions of the Electricity at Work Regulations". 
Franchised dealerships typically supply dedicated training for staff working on EVs and hybrid cars, but the IMI says independent garages "are guilty of being complacent and not investing in training unless a regulatory instrument suggests otherwise." The IMI adds it is inevitable that the "proliferation of the Hybrid and Electric Vehicles entering the independent sector for maintenance and repair will inevitably increase" as these cars get older.
Steve Nash, the IMI's chief executive said: "The risk to health and safety is very real and needs to be addressed with urgency. It is also vital that the regulatory mechanisms are in place to support businesses that will come into contact with these vehicles." 
What's your view of the challenges posed to independent garages by the growth in EV and Hybrid vehicles? Let us know in the comments…