One in seven drivers would jump a level crossing
Drivers risking lives, as well as three penalty points, by jumping level crossing lights. New campaign and video highlight dangers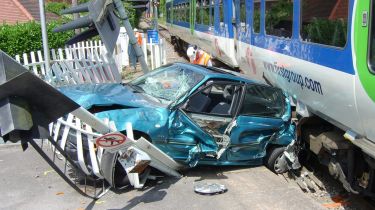 One in seven drivers would risk their life by jumping red lights at a level crossing, new research has revealed.
Around 46 incidents involving vehicles occur on the UK's 3,800 level crossings every week, with 10,500 occurring over the last five years. Six people have died and "many more" have been injured over the same period.
• Six points and a £200 fine for using your mobile while driving
Network Rail, the government-owned company responsible for level crossings, signals, tunnels and tracks, surveyed 1,600 people and found one in seven drivers would jump a level crossing before the barriers had opened.
A further one in nine said they would go straight over a level crossing if they had checked train timetables and believed no train was due. This, Network Rail says, is particularly dangerous as freight trains and other trains not listed on timetables can travel through crossings at speeds up to 100mph.
Lorries were the most common type of vehicle involved in level crossing misuse, making up 32 per cent of recorded incidents; car drivers were the second most common, at 28 per cent. The video above shows just how dangerous crossings can be.
Drivers who jump level crossings face being fined £60 and given three penalty points for failing to comply with traffic signs – or offered the option of a level crossing awareness course.
Some 21 of the most dangerous level crossings in Sussex have been fitted with enforcement cameras that will automatically issue tickets for drivers who do not obey lights, or stop at barriers.
Allan Spence, head of public and passenger safety at Network Rail, said there was a clear "lack of knowledge around how dangerous railway crossings can be." Spence said Network Rails is investing £100 million in level crossing safety, but cautioned it remains the responsibility of drivers to "keep ourselves and those in our vehicles out of harm's way."
Network Rail is legally responsible for managing level crossing safety, and assesses each crossing on its network once every 1.25 to 3.25 years.