Watchdog: Hyundai refuses warranty pay-out
Faulty oil pump on Santa Fe was repeatedly ignored by dealer until warranty expired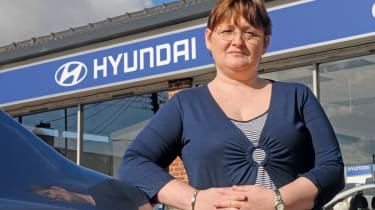 What do you do if you suspect your car has a fault but the dealer won't take your concerns seriously? That was the situation Jenny Bell, from Warwickshire, found herself in with a Hyundai Santa Fe.
The SUV developed a worrying whirring noise when starting up from cold. But staff at dealer Red Rose Garage, in Tamworth, Staffs, inspected it on numerous occasions and insisted there was no problem, even after the car blew a turbo early last year.
Not until the Hyundai was inspected by a different dealer – Chambers of Tamworth – was the issue finally diagnosed as a faulty oil pump. Yet by this point, the car was out of warranty and the dealer refused to foot the bill.
Jenny made it clear through several E-mails to customer services that the fault started well within the warranty period, but Hyundai backed the dealer, leaving her with a repair bill of more than £500.
"Hyundai has just fobbed me off until it can wash its hands of the matter by claiming that the warranty has expired," said a frustrated Jenny.
However, after she contacted Auto Express, Hyundai agreed to cover the cost of the replacement under warranty. A spokeswoman said: "There's no guarantee that the fault is the same one that was complained about originally, but there's no proof that it wasn't, so we are covering it."
But drivers shouldn't assume that raising a concern on a car still within warranty will mean the maker is obliged to cover repair costs once the policy expires.
Holly McAllister, consumer team manager of automotive body Motor Codes, told us: "If an issue starts to crop up within warranty but the part doesn't fail until outside it, technically it may not be covered under the terms of the warranty.
"The consumer would still have a strong legal position under the Sale of Goods Act, and we would push for a reasonable resolution. But that might not be the full cost of the repair."
The problem
The dealer wouldn't take Jenny's concerns seriously. The fault on her Santa Fe wasn't diagnosed until the warranty had expired, and Hyundai refused to pay.
Hyundai's response Hyundai first insisted it had "no financial obligation or commitment to the repairs", but has since covered the full cost of the replacement oil pump.
Legal advice Motor Codes' Holly McAllister said: "Report your concerns to the maker and keep a record of all correspondence with it and the dealer, so you can prove the problem first cropped up during the warranty period."
Our verdict Hyundai was well aware that the customer had been complaining about this issue for some time, so it's disappointing to see it trying to shirk its responsibilities. At least it came good in the end.