Watchdog: Flywheel replacement farce
Owner stuck with £1,700 bill after dual-mass flywheel breaks four times in four years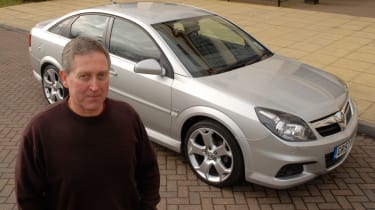 Everyone expects perishable parts like brake pads to wear out. But what about key engine components, like the flywheel?
Experts say this expensive part should last at least five years, but reader David Arenstein of Kings Langley, Hertfordshire, is due his fourth one in as many years.
The flywheel on David's 2008
Vauxhall Vectra
had already been replaced twice under warranty, but when the dreaded knocking sound returned, his warranty was up.
David's dealer, Evans Halshaw in Hemel Hempstead, confirmed yet another flywheel was needed. But to his dismay, Vauxhall told him he would have to foot the £1,700 bill himself this time.
David told us: "Vauxhall said I shouldn't worry, as the parts are guaranteed, but what happens after that? I'm really frustrated, as this was never resolved properly."
When we spoke to Vauxhall, it softened its line and offered to pay for an inspection to establish the cause of the repeated flywheel failures.
But what then? Vauxhall said: "Whatever the outcome, we will look favourably at assisting with the costs of rectifying the problem." David was delighted.
Motor Codes, the automotive industry regulator, agreed that Vauxhall should have done this from the start. A spokeswoman explained: "We would expect the maker to get to the bottom of the problem and fix it. If not, we'd advise taking the legal route."
We asked AA technical specialist Vanessa Guyll to explain the issue. She told us: "David's Vectra uses a complex dual-mass flywheel. These smooth out the vibrations from modern, powerful diesel engines. They're not as reliable as solid flywheels, but should last at least four to five years."
The AA's view was backed up by the aftermarket warranty company Warranty Direct. A spokeswoman said: "We've paid out on 13 flywheel claims for Vectras in the last year.
"We've been seeing claims as early as 30,000 miles or four years, and cars from brands like Audi and VW suffer this, too."
The problem
David's Vectra has used up three dual-mass flywheels in less than four years. Now it's out of warranty and he's looking at a £1,700 bill.
Vauxhall's response Vauxhall had washed its hands of the problem. But once we got involved, it agreed to foot the bill for an inspection to work out what's going wrong.
Legal advice Just because a car is four years old doesn't mean you don't have a claim against its maker. And if your problem can't be resolved with the manufacturer, contact the industry regulator to intervene on your behalf.
Our verdict Expensive parts should last longer. For three flywheels to break in four years suggests they're defective or poor quality. An inspection should reveal the cause, and if the manufacturer is at fault, then it should pay.