Watchdog: Warranty cover falls short
Aftermarket warranty company blames Subaru for engine failure, leaving our reader out of pocket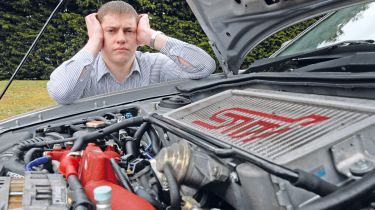 Where do you stand when your warranty company says engine damage was caused by a design fault, and the maker disagrees? Over three months after his car developed engine problems, reader Sean Clayton of Stevenage, Hertfordshire, is still hoping for a final payment from his warranty company.
Sean paid £800 for an aftermarket warranty with AutoProtect. Late last year, he noticed a flat spot in the power delivery of his 2006
Subaru Impreza
. A specialist stripped the engine down and an independent engineer diagnosed cracked piston rings, a cracked turbo housing and a cracked oil pipe. The repair bill ran to £4,600.
AutoProtect accepted some liability for the turbo, offering £1,600. But the engineer's report stated the cracked oil pipe and piston ring damage were caused by manufacturing design faults. AutoProtect told Sean design faults were excluded from his cover. Sean told us AutoProtect's helpdesk agent said Subaru would not admit the faults in public, as it would cause severe damage to its reputation.
But Subaru had already contacted AutoProtect refuting this. A Subaru spokesman told Auto Express: "We are not aware of any latent or inherent faults with '06 model cars that could cause the reported piston ring failure. There are no recalls on this vehicle, and no service campaigns." When we asked AutoProtect to explain its position, it refused to comment. AutoProtect is signed up to Motor Codes' Warranty Code, which offers a dispute resolution service. A Motor Codes spokeswoman said: "We'd be keen to challenge AutoProtect's decision."
Sean pursued his finance company, Black Horse Finance, too. It agreed the crack in the oil pipe was likely to be in place when Sean bought the car, and agreed to pay the labour costs for all three faults, offering £2,400. We've put Sean in touch with Motor Codes, which has opened a case to resolve the remaining £600 for piston repairs.
The problem
Sean was left in no-man's land when his warranty company refused to pay. It pointed the finger at the manufacturer, leaving Sean out of pocket.
The response AutoProtect refused to discuss its position with Auto Express, saying it only acts as a claims administrator. It makes the claims decisions, though.
Legal advice AutoProtect's terms exclude design defects. And it has not changed its tune, despite the fact that Subaru has said none exists. Sean is now correctly using Motor Codes' dispute resolution service.
Our verdict Sean's tenacity has meant he's nearly got his money back, but he's still £600 out of pocket. Black Horse Finance gets credit for picking up all the labour costs, but AutoProtect should not blame Subaru.