Watchdog: New car spec blunder
Our reader is left furious after new Ford Focus is delivered without the promised specification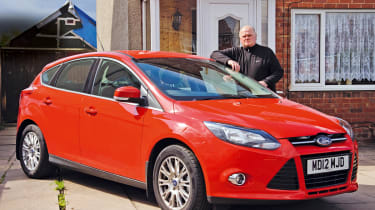 There's little that can match the thrill of buying a new car – and few things as disappointing as finding that what's delivered isn't what you ordered.
That's what happened to Mick Doogan, from Wednesbury, West Midlands. The 1.6-litre Ford Focus he ordered from Evans Halshaw in Wolverhampton was the first new car he'd ever bought.
As well as opting for top-spec Titanium trim, he forked out for a personalised reg plate and picked a Sony navigation system with rear-facing camera as an optional extra, at a cost of £625 plus VAT.
Not that he cared much about the sat-nav system. "I could buy a sat-nav from Halfords at a fraction of the cost," Mick told us. "I just wanted the rear camera, as my wife is not the best at reversing."
So imagine his disappointment when he went to pick up his car, and was told that it didn't have a reversing camera after all – only an expensive sat-nav system.
And it wasn't just that. The spec sheet had said early 2012 Titanium Focus models would have tyre deflation detection systems and front and rear floor mats, too. His car had neither.
A furious Mick let Ford know his thoughts after receiving one of the company's feedback forms. "I slated them. I said it had ruined the pleasure of buying a new car. I expected a response, but I heard nothing. Well, they've got my money, haven't they...?"
After telling Evans Halshaw that he'd been in touch with both Auto Express and Trading Standards over the matter, the dealer offered him three years of free servicing.
A spokeswoman for Ford told us that as its products are updated on an ongoing basis, all brochures carry a disclaimer stating that it reserves the right to change specifications at any time, and that customers should consult their dealer.
She added: "Rear view cameras will be introduced to the Focus sat-nav system shortly, but have not been available on the Focus up until now." Evans Halshaw declined to comment on the case.
The problem
Mick spent £625 on optional sat-nav purely for the reversing camera the brochure and dealer said it came with. But his car didn't feature it.
Dealer's response Evans Halshaw declined to comment, but did offer Mick three years' free servicing after he told them he'd been in touch with Auto Express.
Legal advice The salesman said the sat-nav came with a reversing camera. It didn't meet that description, so Mick has the right to reject it. The car was bought via hire purchase, so he'd have to reject it via the finance company.
Our verdict Regardless of Ford's disclaimer, it should not be advertising its cars as having features they don't have. And sales staff should know the spec of cars they are selling – mix-ups like this are unacceptable.