Watchdog: Can CD-Rs invalidate warranties?
Our reader was told repairs to his Audi's entertainment system wouldn't be covered by warranty because he'd used a homemade CD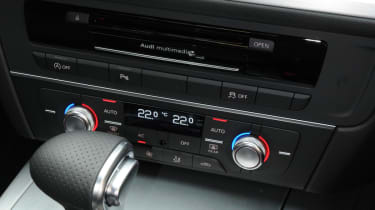 Watch out, Audi drivers: putting the wrong CD in the stereo could end up invalidating your warranty, according to the company's customer services.
That's what David Wyatt, from Belfast, found when he took his two-month-old A6 to his dealer after a CD jammed in the player. He got a shock when he informed the technician that the disc was a CD-R full of songs he'd bought and downloaded from the Web.
"I was told that in such circumstances any repairs would not be covered by the warranty," David said. "I couldn't believe it."
A call to Audi UK customer services confirmed what staff at Belfast Audi had told him: repairs to the multimedia system required after using a home-made CD would not be covered.
"It makes no sense," said David. "The manual even specifies exactly what computer files are compatible to use on a home-made CD with the Audi system, and what home CDs to use." But there was no mention that not following the instructions could invalidate your warranty. Plus, no small print in the documents mentioned any exclusions for CD-Rs.
Fortunately, Belfast Audi managed to eject the disc from David's A6, which saved him the expense of having the unit replaced. "But I think this raises a serious issue that urgently needs to be addressed," David added. We agree – so we got on to Audi.
A spokesman told us it was unclear why both the dealer and customer services had told David repairs would not be covered under warranty if they were required because of a CD-R. He said that although Audi recommends customers use shop-bought CDs, it "does not impose any formal restrictions on alternatives".
But he added: "If discs are scratched, deformed, irregularly sized or carrying stickers and/or protective rings, they could cause a system malfunction that could necessitate removal of the header unit for repair. Audi UK could not accept responsibility for any associated costs."
The problem
A6 owner David got a CD stuck in the media system, but was warned that as the disc was home-made, the car's warranty wouldn't cover any repair costs.
Audi's response Belfast Audi and Audi UK customer services told David repairs wouldn't be covered as he'd used a CD-R. Audi UK said this was a misunderstanding.
Legal advice Industry regulator Motor Codes told us: "Warranty exclusions needn't be specifically listed. If a home-made CD can be proven as the cause of a fault, it can be up to the car maker's discretion as to whether it contributes."
Our verdict Audi has assured us CD-Rs won't invalidate your car'swarranty – but Motor Codes says it could with other makers. If you want to use home-made CDs in your car, check with your dealer/customer services first.