Watchdog: Dealer overcharges on warranty fix
Fiat 500 owner was told 'book' time for work was 1.5 hours - but the garage charged for 2.3 hours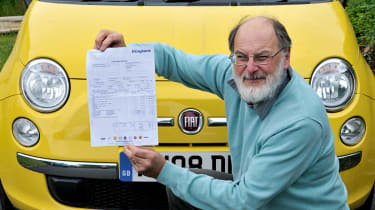 Ever wondered whether your dealer was overcharging you? Well, Stewart Edward knows his has – and he's even got proof.
He booked his four-year-old Fiat 500 in for a repair at Vospers, Plymouth, and was told the car would need a new suspension arm and that the gearbox oil seal needed replacing.
After the work was completed, Stewart, from Ivybridge, Devon, remembered he had taken out a fourth year warranty. But when he got in touch with the provider, it told him it would only cover part of the £400 bill, leaving him with £95 to pay. The company was aware of the 'book' times – Fiat's official estimates for how long a job should take – and so knew the dealer had overcharged.
"I was informed that the Fiat book time for replacing the suspension arm was 1.5 hours, but Vospers charged 2.3 hours," an outraged Stewart told us. "The book time for the oil seal was 0.85 hours, but I had been charged for 1.5 hours."
Vospers has now apologised and sent Stewart a cheque for the overcharged hours, and he's satisfied that his complaint has been settled. However, he told us "it should never have been necessary to complain in the first place". And he added: "If I hadn't submitted my warranty claim, I wouldn't have known that I was being ripped off."
But Stewart wanted to know why a garage would charge so much more for a regular repair than for warranty work – and so did we. We called Vospers, and a spokesman said: "Warranty book times relate to repairs being carried out under ideal conditions and on new cars, with parts provided at heavy discounts under warranty."
A Fiat spokesman told us: "Vospers has confirmed it made a mistake, and it immediately rectified this by offering the customer a refund or vouchers towards a service. It also sent the customer a letter of apology."
Stewart said: "I feel sorry for anyone who's been overcharged by a major garage. But chances are they don't even realise it."
The problemStewart found out his dealer had overcharged him for repair work after his warranty provider pointed out labour rates were way above official 'book' times.
Vospers' responseVospers apologised for its error and refunded the difference. It said warranty book times relate to repairs being carried out under ideal conditions on new cars.
Legal adviceWhile it's illegal for businesses to charge for work they haven't done, it's hard to prove they've exaggerated repair times. If you think you've been overcharged, contact regulator Motor Codes – it can get official repair times.
Our verdictMistake or not, this case highlights the need for dealers to be more transparent. Official book times shouldn't be just for corporate customers like insurers; regular drivers should have access to them, too.
Do you have a motoring problem that needs investigating? We're here to help… E-mail mail@autoexpress.co.uk or Tweet us @AutoExpress.